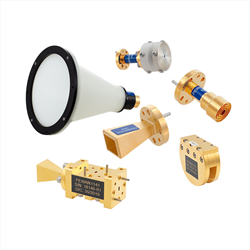 "These new waveguide antennas are perfect to address the expanding number of high-frequency applications we're seeing, including the latest 5G deployments," said Mark Miller, Product Line Manager
IRVINE, Calif. (PRWEB) March 05, 2020
Pasternack, an Infinite Electronics brand and a leading provider of RF, microwave and millimeter wave products, has expanded its offering of mmWave waveguide antennas to address the growing number of 5G and other high-frequency applications.
Pasternack's line of millimeter-wave, waveguide antennas has added 54 new models and now covers broad operating frequency ranges from 1.7 to 220 GHz, provides nominal gain ranging from 0 dBi to 40 dBi, and features a variety of different waveguide sizes.
Five new categories of high frequency waveguide antennas are now available to address point-to-point and point-to-multi-point wireless applications, including probe waveguide antennas to 170 GHz with 6.5 dBi of gain, dual polarized waveguide antennas to 110 GHz with 13-20 dBi of gain, corner reflector antennas with .02 m2-16,000 m2 radar cross sections, sector waveguide antennas to 40 GHz with 6dBi of gain as well as a series of waveguide antenna mounting fixtures designed to work with UG383/U,UG385/U, UG387/U, UG595/U, UG599/U and UG1530/U flanges.
"We are pleased to continue growing our waveguide antenna line by offering our customers even more off-the-shelf antenna options that are shipped the same day. These new waveguide antennas are perfect to address the expanding number of high-frequency applications we're seeing, including the latest 5G deployments," said Mark Miller, Product Line Manager.
In addition to introducing four entirely new categories of waveguide antennas, Pasternack has also added 19 models to their existing categories of scalar feed horn and omni-directional waveguide antennas.
All of Pasternack's waveguide antennas are REACH and RoHS compliant and constructed with the highest quality materials and workmanship available.
Pasternack's new mmwave waveguide antennas are in-stock and ready for immediate shipment with no minimum order quantity required.
For inquiries, Pasternack can be contacted at +1-949-261-1920.
About Pasternack:
A leader in RF products since 1972, Pasternack is an ISO 9001:2008 certified manufacturer and supplier offering the industry's largest selection of active and passive RF, microwave and millimeter wave products available for same-day shipping. Pasternack is an Infinite Electronics brand.
About Infinite Electronics:
Based in Irvine, Calif., Infinite Electronics offers a broad range of components, assemblies and wired/wireless connectivity solutions, serving the aerospace/defense, industrial, government, consumer electronics, instrumentation, medical and telecommunications markets. Infinite's brands include Pasternack, Fairview Microwave, L-com, MilesTek, Aiconics, KP Performance Antennas, PolyPhaser, Transtector, RadioWaves, ShowMe Cables, Integra Optics and INC Installs. Infinite Electronics serves a global engineering customer base with deep technical expertise and support, with one of the broadest inventories of products available for immediate shipment.