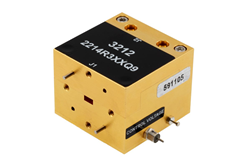 "Our new line of high-reliability, waveguide packaged, voltage variable attenuators is ideal for downlink or receive channels where adjusting/tuning signal levels to optimize system-level performance is necessary," said Tim Galla, Product Manager
IRVINE, Calif. (PRWEB) November 02, 2022
Pasternack, an Infinite Electronics brand and a leading provider of RF, microwave and millimeter-wave products, now provides six new models of waveguide packaged, voltage variable attenuators covering popular mm-wave frequency bands ranging from 26.5 GHz to 110 GHz.
Pasternack's new waveguide packaged, voltage variable attenuators utilize GaAs MMIC semiconductor technology and offer 0 dB to 30 dB attenuation tuning adjustment with a voltage range of 0 Vdc to 5 Vdc. Designers will find these broadband, voltage variable attenuators useful in receive chains to tune mm-wave signal levels to optimize system-level performance.
The attenuators are available in rugged, compact, military-grade, gold-plated aluminum package designs that operate across −10 to +60 degrees Celsius. They support a variety of waveguide sizes and can withstand exposure up to 95% relative humidity and altitudes of up to 10,000 feet.
This portfolio of broadband, waveguide, voltage variable attenuators features a fast switching speed of 25 nsec typical, insertion loss ranges from 4 to 6 dB, and high-input power handling up to +23 dBm.
"Our new line of high-reliability, waveguide packaged, voltage variable attenuators is ideal for downlink or receive channels where adjusting/tuning signal levels to optimize system-level performance is necessary. These continuously variable waveguide attenuators are in-stock and available to ship the same day ordered," said Tim Galla, Product Manager.
Pasternack's new waveguide packaged, voltage variable attenuators are in-stock and ready for immediate shipment with no minimum order quantity. For inquiries, contact Pasternack at +1-949-261-1920.
About Pasternack:
A leader in RF products since 1972, Pasternack is an ISO 9001:2015-certified manufacturer and supplier offering the industry's largest selection of active and passive RF, microwave, and millimeter-wave products available for same-day shipping. Pasternack is an Infinite Electronics brand.
About Infinite Electronics:
Based in Irvine, Calif., Infinite Electronics offers a broad range of components, assemblies and wired/wireless connectivity solutions, serving the aerospace/defense, industrial, government, consumer electronics, instrumentation, medical and telecommunications markets. Its brands are Pasternack, Fairview Microwave, L-com, MilesTek, ShowMeCables, NavePoint, INC Installs, Integra Optics, PolyPhaser, Transtector, KP Performance Antennas, RadioWaves and Aiconics. Infinite serves its customers with deep technical expertise and support, with one of the broadest inventories available for immediate shipment, fulfilling unplanned demand for engineers and technical buyers. Infinite is a Warburg Pincus portfolio company.