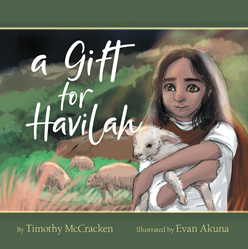 "When I was writing a Christmas play for our church, naturally the story revolved around people waiting for Messiah to come. The thought of creating a children's book on the same theme has been brewing ever since."
FRESNO, Calif. (PRWEB) November 17, 2021
With the holiday season approaching, Pastor Timothy McCracken shares the story of young Havilah, an only child in a family of shepherds on the outskirts of Bethlehem near the time of Christ's birth in his debut children's book, "A Gift For Havilah." Havilah is bright, trusting and full of hope. Throughout this Biblical-based book, McCracken takes readers along as he explores the different characters' experience of faith.
Every year, Havilah's father and her uncles must take their sheep to fields Southeast of her home in Bethlehem. There, the shepherds stay all night to watch over the flocks because there are no pens. Year after year, Havilah watched as they went and always wanted to go. The work of a young shepherdess is very real and hard, but she has looked forward with an unquenchable eagerness. The story also focuses on Havilah's struggling mother, Naomi, who, due to tragedy, is in much need of reassurance in her faith. Readers will follow along as they await a ray of hope.
Throughout this inspiring Christmas tale, McCracken emphasizes how Jesus' coming was foretold, people fearful that God will not keep His promises will find that He does and, ultimately, readers will find the confidence in Jesus Christ as their hope and Savior.
"I love how a message can be brought to the heart through a play," said McCracken. "When I was writing a Christmas play for our church, naturally the story revolved around people waiting for Messiah to come. The thought of creating a children's book on the same theme has been brewing ever since."
With "A Gift For Havilah," McCracken hopes that young individuals, parents and all readers' faith will be strengthened knowing that Christ's coming was truly foretold. Through this family-friendly and imaginative book, based on real people and situations in Scripture, the author encourages young readers to reflect on the Gospel hope and faith experience.
"A Gift For Havilah"
By Timothy McCracken
ISBN: 9781664244528 (softcover); 9781664244535 (electronic)
Available at WestBow Press, Barnes & Noble and Amazon
About the author
Pastor Timothy McCracken received his Bachelor of Arts in Biblical Studies at Geneva College and his Master of Divinity at Reformed Presbyterian Theological Seminary. He served one congregation for nearly 29 years. Since 2017, he has served as Regional Director for Metanoia Prison Ministries in San Joaquin Valley, Calif. McCracken and his wife are parents of three and grandparents of seven. He currently resides in Fresno, Calif.
General Inquiries:
LAVIDGE – Phoenix
Meghan Bowman
480-306-6597
mbowman@lavidge.com