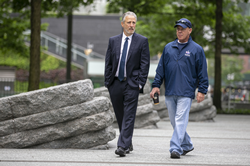 "Jon Stewart and John Feal spent more than a decade fighting to ensure that the heroes who saved so many lives on September 11, 2001 have access to the health care they need. They now take that energy and relentless advocacy to fight for veterans with burn pit injuries." —Marie Tillman
CHICAGO (PRWEB) October 20, 2020
The Pat Tillman Foundation (PTF) will honor Jon Stewart, John Feal and Jackie Munn for their remarkable leadership and commitment to service at Tillman Honors in a Zoom event on Thursday, Nov. 5 from noon to 1 p.m. CST.
Tillman Honors, presented in partnership with the NFL, celebrates Pat Tillman's legacy by honoring those who exemplify his fortitude and spirit of service, and who have carried that legacy forward through their civic contributions. The third annual benefit, which has moved online due to coronavirus concerns, includes the presentation of the Champion and Make Your Mark Awards and showcases the global impact of Tillman Scholars as the next generation of leaders committed to service beyond self.
This year's event brings together hundreds of Tillman Scholars and supporters from around the country to virtually present the 2020 Champion Award to Jon Stewart and John Feal for their efforts in securing healthcare and a victims' compensation fund for all 9/11 first responders and for their work advocating for the millions of veterans facing toxic injuries from burn pits.
"Jon Stewart and John Feal spent more than a decade fighting to ensure that the heroes who saved so many lives on September 11, 2001 had access to the health care they need for decades to come," says Marie Tillman, Board Chair and co-founder of PTF. "As they now take that energy and relentless advocacy to fight for veterans with burn pit injuries, which puts them at greater risk of complications from COVID-19, it is our honor to name them our Champion awardees."
For embodying the values of service, scholarship, humble leadership and impact, PTF honors 2015 Tillman Scholar Jackie Munn with the 2020 Make Your Mark Award. As a public health nurse practitioner, Jackie helps her county's efforts by caring for low-income and non-insured patients at her public health department and managing the healthcare records for Arlington County's first responders and public safety officers. Once the pandemic hit, she also helped her county's efforts with contact tracing to stymie the spread of the coronavirus, balancing her professional responsibilities with managing remote learning for her son while her husband, a former Green Beret, was away for work.
"Like Pat, Jackie is a multifaceted leader who brings her sense of selfless service into all that she does," says Dan Futrell, CEO of PTF. "Seeing a need in her community and caring for vulnerable people through public health efforts amidst an already full life, Jackie is an inspiration for me and the rest of our Tillman Scholar community."
Tillman Honors is presented by the NFL. The Pat Tillman Foundation is supported by TEK Systems, the Johnny Carson Foundation, U-Haul, Bella+Canvas, the Discover Brighter Futures Fund, J.S. Cole Company, Aerotek and Discover. Additional PTF supporters include John and Jill Svoboda, William Blair, Quinn Emanuel, Polen Capital, TRIMEDX, BMO Harris Bank, Harrison Street, Rewards Network, JSSI, Wintrust, Shore Capital Partners, Relish Works, R1, Dick's Sporting Goods, MBRE Healthcare, Arizona State University, McKinsey & Company and the Robert R. McCormick Foundation. To register or become a sponsor, please contact giving@pattillmanfoundation.org.
If you are a member of the media who wishes to arrange an interview regarding Tillman Honors, please contact Stephanie Kuenn at (773) 495-8278 or skuenn@pattillmanfoundation.org .
About Jon Stewart and John Feal
Comedian and activist Jon Stewart partnered with John Feal, a military veteran and 9/11 first responder who lost part of his foot to an injury at Ground Zero and others, to advocate and pass legislation guaranteeing healthcare and compensation for all 9/11 first responders who lived, worked or went to school in lower Manhattan, the Pentagon and Shanksville until 2090. This effort required more than 15 years' of lobbying and true grassroots activism. Now, with bipartisan support, they want to ensure health care benefits and support for veterans who suffer from the toxic aftermath of burn pit exposure.
About Jackie Munn
2015 Tillman Scholar Jackie Munn is a West Point graduate, former Army captain and military spouse turned writer and nurse practitioner working for the Arlington County, Va., public health department. Working with wounded soldiers in Washington D.C., and vulnerable women and children in Afghanistan had a profound impact on Jackie, and motivated her to pursue a career in the medical field, a passion rooted in providing empathetic care to predominately underserved and vulnerable populations. She believes that everyone deserves access to quality and affordable healthcare, and as a provider, it is her responsibility to partner with her patients and community to achieve the best health outcomes for those she serves.
About the Pat Tillman Foundation
The Pat Tillman Foundation unites and empowers a diverse community of remarkable military veterans and spouses as the next generation of public and private sector leaders committed to service beyond self. The foundation supports Tillman Scholars as they enter their next chapter with academic scholarships, lifelong leadership development and a global community as they continue to make an impact in their communities and the world. For more information on the Pat Tillman Foundation and the impact of the Tillman Scholars, visit PatTillmanFoundation.org.