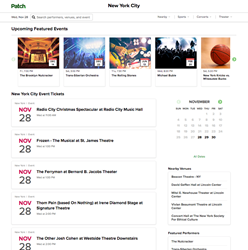 "The TicketNetwork partnership brings thousands of local ticketed events, supporting small and large venues across the country, to our millions of users in a safe, money-back-guarantee environment." - Patch CEO Warren St. John
NEW YORK (PRWEB) November 30, 2018
Hyperlocal news platform Patch announced today a new partnership with TicketNetwork, a leading online marketplace for live event tickets. The collaboration will bring competitively priced concert, sports and theater tickets to millions of Patch users across the country. One of the largest of its kind, this integration will provide Patch readers with a 10 percent discount to popular events in their area (via the "PatchTickets10" promo code*).
"Patch continues to scale and increase value for our users – both as a platform for small businesses to grow and for users to get great deals," says Patch CEO Warren St. John. "The TicketNetwork partnership brings thousands of local ticketed events, supporting small and large venues across the country, to our millions of users in a safe, money-back-guarantee environment."
Patch features a robust platform that allows users to post about and discover local events on its newsfeed and calendar. Through this partnership, Patch readers who find an event they wish to attend, can instantly purchase available tickets by clicking on the orange "Get Tickets" button on the homepage of their local Patch.
"Patch Tickets will help millions of Patch users choose from a wide variety of highly sought-after live event tickets inventory, with an easy-to-use and secure platform from which to purchase event tickets," says TicketNetwork's COO Mike Honeyman. "In partnering with Patch, we are able to offer tickets for affordable and fun events right to the neighborhood of over 1,200 Patch communities across the nation."
TicketNetwork connects users to more than 100,000 concerts, sports and theater events worldwide. All tickets are listed by trusted sellers and are backed by TicketNetwork's 100 percent money-back guarantee.
Patch and TicketNetwork have both seen the local events market grow over the past few years, recognizing that "locality" enhances the overall user experience.
Patch is one of the fastest growing hyperlocal news organizations in the country. As other local publications shut their doors, Patch continues to expand into communities including Birmingham, AL, Miami, FL, and Charlotte, NC. Patch also launched a new mobile app this year that helps readers follow the different communities they are tied to. The app has over 200,000 downloads with a 4.5-star rating in the major app stores.
About Patch
Patch is a hyperlocal platform that currently serves over 1,200 communities, towns and cities across the U.S. Known affectionately as "The Patch" by its users, Patch is the go-to destination for hyperlocal news and discussion about your community. If it's happening in your town, you'll read about it on the Patch. patch.com.
About TicketNetwork
TicketNetwork connects users to more than 100,000 concerts, sports and theater events worldwide. All tickets are listed by professional ticket-selling companies and trusted ticket sellers, all backed by a 100 percent money-back guarantee. Parent company TicketNetwork, Inc., was founded in 2002, and hosts a leading online exchange with over $5.5 billion in ticket inventory. The flagship product, the TicketNetwork® Point-of-Sale, and other solutions, power a vast network of websites that enable buyers and sellers to exchange tickets to thousands of events. corporate.ticketnetwork.com/.
*PatchTickets10 promo code conditions – Purchase an event ticket via Patch.com/tickets and instantly receive 10% off through the use of the promotion code. Limit one discount/promotion code per order. Promotion code does not apply to taxes, service fees, or shipping. Discounts are not redeemable for cash for any reason. Promotion codes are non-transferable, not for resale, and cannot be combined with other offers. Promotion code is valid at time of check-out only and will not be credited after you have confirmed your purchase. Any attempt at fraud will be prosecuted to the fullest extent of the law. Void where prohibited, taxed or restricted by law. Patch.com reserves the right to change or limit the promotion in its sole discretion. Other terms and conditions apply (patch.com/terms).