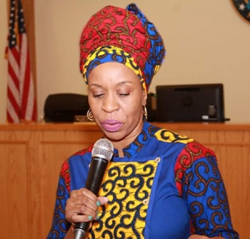 PATERSON, N.J. (PRWEB) August 21, 2018
Queen launched the "Little Free Library" program last summer to put book-lending boxes in neighborhood parks so adults and children can easily borrow or donate books. There are now small libraries in a dozen city parks. Queen's goal is for each of the 44 city parks to have a Little Free Library within three years.
"These small libraries are becoming a center of community life," Queen said. "People tell me they feel a sense of ownership, not only of the lending boxes and books, but the entire park. This program is helping transform our parks and build a community around reading."
"Ms. Queen found an exceptional way to build pride in Paterson's parks. People and families who enjoy use of these park-based lending libraries are more likely to keep their parks clean by recycling and not littering," said NJCCC Executive Director Sandy Huber.
"Talena (Queen) goes above and beyond to ensure these lending boxes stay in good shape and are stocked with books. She also makes sure the parks where they are located stay clean," said city recycling coordinator Diane Polifronio. "These parks have never looked better."
To bring more people into city parks, Queen occasionally hosts poetry recitals and storytelling events. She also organizes volunteer cleanups and sponsors "Built-It" events to encourage people to construct book lending boxes for their neighborhood parks.
Among the groups that voluntarily adopted book lending boxes, and the parks where they are located, are the Paterson Education Association, Habitat for Humanity, and the city's Municipal Alliance Prevention Program.
Learn more about Paterson's Little Free Libraries at http://www.facebook.com/HerBestSelf.org/ and about the N.J. Clean Communities Council at http://www.njclean.org/.