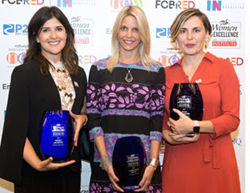 CHICAGO (PRWEB) July 18, 2018
The Path to Purchase Institute announces its call for nominations for the third annual Women of Excellence Awards, recognizing female brand marketers, retailers, agency executives and solution providers for their achievements in influencing shoppers along the path to purchase.
Nominations for the Women of Excellence Awards will be accepted until 5 p.m. CST, August 10, 2018, in four categories including collaboration, innovation, leadership and "rising star."
Nominees will be announced in September and winners will be revealed live, onstage at the Women of Excellence Award ceremony, 5:00 p.m. CST on Oct. 3, 2018, at the Minneapolis Convention Center.
The Women of Excellence Awards is a top networking event at 2018 Path to Purchase Expo (P2PX), which takes place Oct. 2-4, 2018, and is the world's premier gathering of retail and shopper marketing professionals, attracting thousands of brand manufacturers, retailers, agency professionals and solution providers who rely on P2PX for community engagement, education and inspiration centered around driving shopper engagement and retail sales.
This year, Path to Purchase Institute continues its partnership with the Network of Executive Women (NEW). NEW is the largest women's leadership organization serving the retail and consumer goods industry. It represents nearly 10,000 members from 750 companies, 100 corporate partners and 20 regions in the U.S. and Canada.
All nominations must be submitted by 5 p.m. CST on August 10, 2018 through the official entry website: https://p2pi.org/wex. Multiple nominations are welcome.
Everyone is welcome to join the celebration, but seating is limited. Purchase your tickets today at path2purchaseexpo.com
About the Path to Purchase Institute
The Path to Purchase Institute is a global association serving the needs of retailers, brands and the entire ecosystem of solution providers along the path to purchase. It champions shopper-centric thinking and practices that help define the ongoing evolution of consumer marketing and the overall shopping experience.
About EnsembleIQ:
EnsembleIQ is the leading business intelligence platform serving the retail, consumer goods, health care, food service and hospitality industries focused on helping customers solve big problems with bold ideas. EnsembleIQ operates an integrated network of media brands across all retail sector and leverages its scale to inform, connect and provide actionable marketplace intelligence to help clients achieve growth. Visit http://www.ensembleiq.com.
EnsembleIQ is a portfolio company of RFE Investment Partners, a private equity investor with more than 30 years of experience investing in growth companies in partnership with strong management teams. Visit http://www.rfeip.com.