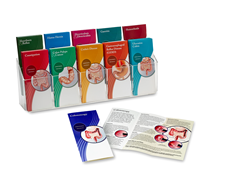 The breadth and depth of our GI patient education allows gastroenterologists to educate their patients on the vast majority of their medical conditions.
Camp Hill, PA (PRWEB) July 29, 2014
GI Supply announces the launch of the newly redesigned Meducate® GI Patient Education Brochures. The new line of brochures was written by gastroenterologists and carefully edited to be easily understood by patients. They include colorful, professionally illustrated graphics that clearly illustrate important medical concepts to patients, enabling them to remember important information after leaving the provider's office. The brochures break down complicated GI procedures, diseases, and therapies into relevant and easy-to-read information, making them a valuable compliment to physician instructions.
According to the US Department of Health and Human Services (HHS), one of the goals of the EHR Incentive Program (also called Meaningful Use) "aims to improve patients' understanding of their health and related conditions so they take a more active role in their health care." Engaging patients and their families using patient education tools like GI Supply's Meducate brochures helps improve health outcomes and enables patients to be more involved in their healthcare decision-making. Additionally, states the HHS, "Patients who are well-informed of their medical condition are more likely to comply with their provider's recommended regimen."
Patient education has always been an important part of any office visit but can pose a challenge once patients leave. Studies show that patients often forget verbal instructions given by their doctor. Also, patients often obtain misinformation from the internet. The new Meducate brochures improve communication effectiveness by combining visual aids with verbal instructions within a convenient brochure format.
GI Supply also offers more than fifty Meducate Dietary Booklets that cover proper nutrition for different regimens such as High Fiber, Lactose Free and Gluten Free diets. The diet plans were created by gastroenterologists to encourage patients to make positive changes by creating an understanding of why these changes are necessary.
"Patient education is becoming extremely important to our customers. The breadth and depth of our GI patient education allows gastroenterologists to educate their patients on the vast majority of their medical conditions. This allows doctors to use their EHR to suggest the appropriate patient brochure for many conditions," says Jeff Barrett, CEO of GI Supply.
To learn more about the new Meducate GI Patient Education Brochures, please visit http://www.gi-supply.com/meducatebrochures.
About GI Supply
GI Supply (http://www.gi-supply.com) designs simply smarter GI products, built by physicians for physicians. The company was founded 25 years ago by Dr. Frank Jackson, a gastroenterologist and entrepreneur. He partnered with other GI physicians, nurses, and practitioners to create simple, smart, just-works-how-it-should products. Products that are safer, more efficient, and more effective for doctor and patient alike. 25 years later, GI Supply builds on that same mission every day.