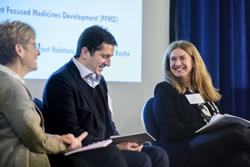 Patients as Partners is the only conference where the research is led equally by experienced patients in clinical trials alongside industry and government.
NEW YORK (PRWEB) October 26, 2018
The Conference Forum has announced the 3rd annual Patients as Partners Europe (Patients EU) event on January 28-29, 2019 at the Millennium Gloucester Hotel in London, UK. Shaped by patients involved in clinical research, the conference takes a comprehensive look at the patient experience and how to engage with them throughout the entire medicine development life cycle. Each session demonstrates how increased patient involvement can drive the development of innovative medicines that deliver more relevant and impactful patient outcomes and make medicine development faster, more efficient and more productive.
"Patients as Partners is the only conference where the research is led equally by experienced patients in clinical trials alongside industry and government," says Jennifer Moran, Program Manager. "The event is devoted to understanding not only the patient perspective on the design of a clinical trial, but also the patient experience in a clinical trial to ultimately figure out how to drive greater efficiencies."
Program leadership includes Co-Chairs Dr Lode DeWulf, Chief Patient Officer at Servier, and Andrew Garvey, Global Patient Advocacy Lead at GlaxoSmithKline; Dr Claire Nolan, Research Manager at Parkinson's UK; Richard Stephens, Patient/Consumer Lead at National Cancer Research Institute; and Jay Duhig, Director of Patient Integration at AbbVie. The Patient Keynote is Geoff Thomas, former English professional footballer and patient advocate on fighting cancer and fighting to get clinical trials as a care option for patients.
Featured sessions include:

Merck's Next Phase of Patient Centricity in R&D: Driving Innovative Medicines Development
Industry Case Studies on Incorporating Patient Involvement with Pfizer, MSD, Norgine and Santhera Pharmaceuticals
How to Return Data to Patients
Addressing the Urgent Need for Plan Language Summaries for Clinical Trials and Medical Publications
Kids Barcelona: How to Promote the Design and Development of Clinical Research Initiatives for Children at a Pan-European Level
Case Study between the NIHR and a Global Pharma to Develop and Pilot a Network to Connect Industry and Patients who Are Willing and Able to Contribute at the Protocol Design Stage
Patients EU 2019 will reintroduce the "Ask the Patient" program that enables attendees to meet face-to-face with patients, who have experienced at least one clinical trial. These patients provide a unique opportunity to learn about the realities of a clinical trial directly from the patient's point of view.
About Patients as Partners
Patients as Partners EU is co-produced with patients, industry, academia, government and nonprofit organizations to establish a well-rounded program that addresses the needs of all stakeholders seeking to implement and advance patient involvement across the entire clinical development continuum. The Patients EU program will be located at the Millennium Gloucester Hotel London Kensington on January 28-29, 2019. For more information, visit Patients as Partners Europe.
About the Conference Forum
The Conference Forum is a life science industry research firm that develops conferences primarily around how to get therapeutics to patients faster. The company examines and challenges the complex ecosystem of drug development and delivery, bringing ideas together from a variety of sources to help advance clinical research with common goals that are patient-focused. The company also presents PharmaTalkRadio with free podcasts for the life science industry and patient advocacy. For more information, visit http://www.theconferenceforum.org.