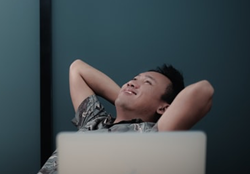 Providers need to reframe their vision of virtual care to include every dimension of the patient experience. Consumers are demanding it. The competition is stepping up to deliver it, and the technology exists to realize it. - Kevin Fleming, CEO, Loyale Healthcare
LAFAYETTE, Calif. (PRWEB) October 07, 2020
Last week, J.D. Power released the results of its research study on patient satisfaction with Telehealth. Speaking to the survey results, the company's managing director of global healthcare intelligence, James Beem said that, "The COVID-19 pandemic has been a moment of truth for telehealth, and, by most accounts, the technology is rising to the challenge and delivering a high degree of satisfaction among those who use it."
Patient concerns about safety (46% cited it as their reason for choosing telehealth compared to 13% the previous year) have led to a degree of change in consumer sentiment that is nothing short of remarkable. The change is likely to be an enduring one. According to reporting in Healthcare Dive, the J.D. Power survey of more than 4,300 people between June and July of this year suggests that, "telehealth will be a fixture of healthcare delivery for the foreseeable future."
The picture for Telehealth isn't all rosy. J.D. Power's Beem went on to observe that, "…even though the public awareness with Telehealth is higher due to the influence of COVID-19, the barriers for the consumer to engage with the technology has been a consistent theme in our research."
These barriers are not insignificant. According to the survey, 52% of users said they encountered at least one barrier that made it difficult to use telehealth. They included: 1) limited services (24%); 2) confusing technology requirements (17%); lack of awareness of cost (15%); and problems during the visit (35%, with 26% citing technical audio issues as the most common problem).
These barriers aren't the only patient shortcomings affecting Telehealth and other forms of patient digital engagement. The other is the scope of care that can be delivered virtually. Patients' abrupt, overwhelming approval of virtual care delivery is a clear indication of consumer appetite for a much more robust, holistic digital relationship with their healthcare providers. A relationship that incorporates every dimension of the patient's care experience throughout their care journey, or what the industry calls the "episode of care."
Envisioning Holistic Virtual Care Delivery in Every Dimension
For all but emergency care, the patient's experience usually begins by seeking care. Even then, the narrow scope of virtual care lacks the capacity to inform prospective patients about the costs associated with the kind of care they're seeking in a helpful, reliable way. As noted in the survey results above, 15% of patients cited lack of awareness about cost as a barrier to Telehealth. In reality, as many as half of Americans avoid or delay care entirely, virtual or in-person, because of concerns about their ability to afford their out-of-pocket obligations.
For providers, the inability to present the consumer with useful information about price along with information about payment options results in a lost opportunity to deliver care. Further, when care is delivered, healthcare providers have exhibited poor performance collecting patient balances after insurance. This same dynamic acts on provider-patient interactions of every kind, in-person or online. Before the prospective patient has even decided whether or not to seek care, she encounters financial barriers that all too often result in unsatisfactory health and/or financial outcomes.
Now imagine a different kind of scenario. Today, a few providers have leveraged technology to reliably present non-emergent patients with price estimates that include their projected out-of-pocket. Armed with this essential information, patients can then make informed judgments about whether to seek care. But what if the estimated cost is too high? Is the industry truly prepared to continue watching those patients abandon their search and neglect their care?
When estimated costs exceed the prospective patient's ability to pay, the same providers referenced above are using their end-to-end patient financial engagement platform to offer the patient multiple payment options, designed to encourage them to seek care. These options usually include reduced rates, short-term interest free payment plans or longer-term plans from third party lenders. Critically, because the issue of affordability has been cured, patients engage with their caregiver more fully and the probability of collecting full payment is improved.
Consider the next stage of the patient's care journey. At this point, the patient has entered into care and is undergoing some kind of treatment. If, for example, this treatment calls for surgery or a specific therapy regimen, the patient will likely be accruing balances with several entities. Billers may include the hospital, the primary care or referring physician, radiology, anesthesiologist, etc.
As treatment is prescribed and begins to take place, the patient starts receiving several different explanations of benefits (EOBs) from their insurance company along with several other bills from each of the billing entities listed above. No wonder the vast majority of healthcare consumers are unhappy with their billing experiences.
Instead, patient financial engagement technology now enables hospitals and health systems to consolidate bills from owned and affiliated providers, then present the patient with a single, seamless, easy-to-understand "statement" to be reviewed, paid or submitted to a payment plan. The entire process blends into the digitally-enabled patient's overall virtual experience. This kind of experience minimizes patient frustration, raises patient satisfaction and improves financial outcomes. It should also be noted that today, bills are frequently delivered by mail. This time-and-labor intensive process incurs costs for handling, printing, material and postage, all of which can be avoided or minimized while improving the digitally-enabled patient's experience.
My company, Loyale Healthcare, operates the industry's leading patient financial engagement platform, Loyale Patient Financial Manager™ as measured by the number of facilities being served and the total of payments processed. We work with some of the largest health systems in the country to help them reduce costs and improve their patients' experiences. These systems were among the first to react to growing patient consumerism. As a result, they were advantageously positioned for the recent, dramatic explosion in the demand for telehealth and other virtual care delivery models.
Digital Patient Enablement and Consumerism Converge
Last year, analysts at IBM published a report titled "Patient-centric healthcare: It's time for a new operating model." The report observed that "organizations across the industry are asking how they can prioritize patient outcomes and meet consumers' expectations for on-demand care delivered on their terms." It goes on to say that, "When you look at trailblazer organizations for consumer centricity across industries, you'll find the change in operating model was forced by external competition or commoditization of a product or service. Success comes when a company learns to deliver experiences or content in a personalized, participatory way, designed with the consumer's preferences in mind."
This report speaks to the importance of reimagining hospital and health system operations. "Organizations embracing new metrics and putting the right tools in place will gain an inside track on the state of the patient relationship – and ultimately their entire operational structure will embody the voice of the customer." Our own experiences working with healthcare providers and their patient-payers across the nation validate this conclusion. By integrating the patient's clinical and financial experiences seamlessly throughout their care journey, healthcare providers are laying the foundation for better patient experiences and financial outcomes in every setting.
COVID-19-inspired innovation and patient enthusiasm for digital engagement have created the ideal environment for the rapid development of holistic, patient centered operating models for hospitals and health systems everywhere. To do that, providers need to reframe their vision of care to include every dimension of the patient experience. Consumers are demanding it. The competition is stepping up to deliver it, and the technology exists to realize it. Now, healthcare providers who expect to thrive in the post-COVID-19 healthcare marketplace must embrace it.
Kevin Fleming is the CEO of Loyale Healthcare
About Loyale
Loyale Patient Financial Manager™ is a comprehensive patient financial engagement technology platform leveraging a suite of configurable solution components including predictive analytics, intelligent workflows, multiple patient financing vehicles, communications, payments, digital front doors and other key capabilities.
Loyale Healthcare is committed to a mission of turning patient responsibility into lasting loyalty for its healthcare provider customers. Based in Lafayette, California, Loyale and its leadership team bring 27 years of expertise delivering leading financial engagement solutions for complex business environments. Loyale currently serves approximately 12,000 healthcare providers across 48 states. Loyale is proud to have an enterprise-level strategic partnership with Parallon which includes the deployment of Loyale's industry leading technology at all HCA hospitals and Physician Groups.