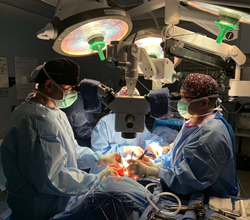 DIEP flap continues to prove to be a great option for most patients who desire breast reconstruction.
SAN ANTONIO (PRWEB) June 12, 2019
In the United States, there are more than 300,000 breast cancer cases diagnosed each year. For many patients undergoing breast cancer surgery, breast reconstruction plays an important part of healing.
As rates of obesity continue to rise, the number of overweight patients seeking breast reconstruction is also increasing. There are many options available today for patients who choose to undergo reconstruction. The most commonly performed method uses a breast implant, but this is not the only option. In fact, the DIEP flap is considered today's 'gold standard' for reconstruction. The procedure uses the patient's own skin and fat from the lower abdomen to create a warm, soft, natural breast following a mastectomy without the use of an implant.
Prior research from PRMA Plastic Surgery found that DIEP flap reconstruction is a safe option for obese patients. However, until now, there was little evidence-based information regarding the effects of weight on patient-reported outcomes and satisfaction after DIEP flap surgery.
Thanks to the introduction of the BREAST-Q (a patient reporting tool aimed to measure breast reconstruction results), patient reported outcomes and quality of life can now be measured to better understand the correlation between reconstructive surgery and patient satisfaction.
New research from PRMA published in Plastic and Reconstructive Surgery shows that patients report significant improvements in breast satisfaction, psychosocial and sexual well-being after DIEP flap reconstruction, including those patients with a high BMI (body mass index) of 30 or over.
The survey results found that breast satisfaction, psychosocial and sexual well-being scores increased significantly after DIEP flap reconstruction across the board. Chest and abdominal physical well-being scores returned to baseline. But most noteworthy was the breast satisfaction and psychosocial well-being scores of patients with a BMI greater than 30. Prior to DIEP flap surgery the scores were low, but after reconstruction, these scores significantly improved.
"DIEP flap continues to prove to be a great option for most patients who desire breast reconstruction," says Dr. Ochoa. "It has been shown to improve breast satisfaction and overall quality of life for most patients, especially those with a high BMI."
About PRMA
PRMA Plastic Surgery in San Antonio, Texas, specializes in state-of-the-art breast reconstruction. Procedures offered include the DIEP flap, SIEA flap, GAP flap, TUG flap, fat grafting, vascularized lymph node transfer, sensory nerve reconstruction and nipple-sparing mastectomy. PRMA is In-Network for most US insurance plans and routinely welcomes patients from across and outside the US.
PRMA's Mission
We are dedicated to promoting an environment of compassion, concern and support for every patient regardless of social or economic status and regardless of type of insurance. We will strive to not only support the patient and their family but also to support each other as the ever-changing field of medicine becomes more complex. Honesty and integrity, compassion and caring, make up the foundation of PRMA and at no point shall these principles be compromised