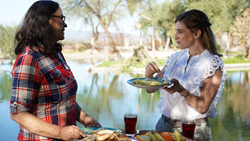 Pati Jinich helps us understand Mexico, Mexicans in the US, and how much our two cultures enrich each other like only someone who has lived in both countries can.
WASHINGTON (PRWEB) September 15, 2020
Chef, cookbook author and TV host Pati Jinich is back with a new season of the three-time James Beard Award-winning and Emmy-nominated TV series "Pati's Mexican Table," premiering on PBS and public TV stations nationwide on October 3.
In season nine, Jinich ventures to a region of Mexico unfamiliar not only to most Americans, but to the rest of Mexico as well — Sonora, "Mexico's Great Frontier."
"Pati Jinich helps us understand Mexico, Mexicans in the US, and how much our two cultures enrich each other like only someone who has lived in both countries can, and she does it with so much joy," says John F. Wilson, Senior Vice President and Chief National Content Officer for National Productions at WETA Washington, D.C. "This is why viewers keep wanting more of 'Pati's Mexican Table.'"
In the premiere episode, we tag along as a visit to Don Guerra's bakery in Tucson, Ariz., prompts Jinich and her crew to follow the trail of the heritage wheat Guerra uses back to the wheat fields near Ciudad Obregón, in Sonora, Mexico.
From there, they continue to explore Mexico's second-largest state. Described as "the big wide open" and a place "where the desert meets the sea" by locals, Sonora borders Arizona to the north and has a coastline extending 507 miles along the Sea of Cortez. As they drive north to south, Jinich takes us on a journey to help untangle the complexities of this region impacted by many misconceptions associated with border states.
"The scenery is beautiful and reminiscent of the American wild west with a rugged landscape, stunning sunsets, and cattle ranches," says series director Dan Connell. "It will remind viewers of old Western films."
Jinich, a Mexico City native who has lived in the U.S. for 20 years, has been dedicated to sharing the cuisine and culture of her home country. She says Sonora and Arizona seem to have more in common with each other than with other states in their own countries.
"With their shared ancestry, history and geography, it is fascinating to see how Arizona and Sonora share so many living, breathing and evolving bonds, many of which can be experienced through food," says Jinich.
Sonorans are proud of the ingredients produced from their land, and the gateway for those ingredients to the U.S. is through Arizona. Over a third of the beef exported to the U.S. from Mexico comes from Sonora, and they are now the country's second-largest producer of pork. In addition to wheat, Sonora grows 90% of Mexico's table grapes and is the largest producer of asparagus in the country.
The flour tortilla, beloved both in Arizona and Sonora, gets a full treatment in the series. Considered by many as not true Mexican food, or an Americanized Mexican tortilla, we learn flour is a pillar of Sonora's economy. Flour tortillas have been ingrained in northern Mexican cuisine for over 500 years and are a way of life.
As Jinich and her crew meet locals along the way, they learn the ways of Sonorans.
"The Sonoran people are blunt and transparent – yes is yes and no is no, which is so refreshing," says Jinich. "They also share the values of all Mexicans, very family-oriented, hospitable, warm, generous and hard-working. Once you become a friend, you become part of their family."
Jinich also shows us how Sonorans use simple, rustic techniques to make their ingredients shine without laborious, complicated methods or heavy seasoning. She returns home with newfound knowledge and a collection of Sonoran recipes she thoughtfully re-creates onscreen, inviting viewers into her home kitchen to learn and reproduce the meals in their own kitchens.
There are recipes that viewers in the U.S. will find familiar, such as carne con chile burritos, chiles rellenos, refried beans, shredded beef chimichangas, and chile and cheese tamales. But, there are also plenty of traditional recipes that have yet to cross the border in a big way like the northern Mexican seafood dish pescado zarandeado, the rich chicken stew known as gallina pinta, the layered seafood tostadas cachoreadas, the empanada-like cookies called coyotas, and many more that are ready to become new household favorites.
"Pati's Mexican Table" is a co-production of WETA Washington, D.C., Mexican Table LLC, and FRANK.
Past seasons are available for on-demand viewing through Amazon Prime.
About Pati Jinich: Mexico City native, Pati Jinich is the James Beard and Gracie Award-winning host of "Pati's Mexican Table" PBS television series, now on its ninth season. Jinch is resident chef of the Mexican Cultural Institute in Washington, D.C., and author of two cookbooks, "Pati's Mexican Table: The Secrets of Real Mexican Home Cooking" and "Mexican Today: New and Rediscovered Recipes for the Contemporary Kitchen." Her third cookbook will be published fall 2021. The Council of the Americas named Jinich one of the "Top 5 Border Ambassadors," who have performed outstanding work bringing the United States and Mexico closer together. She was recognized with the Keeper of the American Dream award by the National Immigration Forum for contributing to the well-being of and advocating for the value of immigrants to the nation. She was named one of the "100 Greatest Cooks of All Time" by Epicurious. She lives in Chevy Chase, Md., with her family.
About WETA: WETA Washington, D.C., is one of the largest producing stations of new content for public television in the United States. WETA productions and co-productions include PBS NewsHour, Washington Week, The Kennedy Center Mark Twain Prize, The Library of Congress Gershwin Prize for Popular Song, and documentaries by Ken Burns and Henry Louis Gates, Jr. Sharon Percy Rockefeller is president and CEO. More information on WETA at weta.org.
About FRANK.: FRANK. is a multi-faceted production company that focuses on non-scripted television and digital content. Award-winning producers Dan Connell and Pasquale DeFazio have decades of combined experience in creating and producing a variety of highly acclaimed culinary, travel and lifestyle programming.