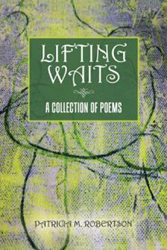 MELBOURNE, Australia (PRWEB) November 14, 2018
Patricia M. Robertson believes in sharing both the dark and light aspects of her existence as she spiritually transforms and experiences the world and all it has to offer. This belief prompted her to write "Lifting Waits: A Collection of Poems" (published by Balboa Press AU). For more details about the book, please visit https://www.amazon.com/Lifting-Waits-Collection-Patricia-Robertson/dp/1504313798.
In her first collection of poems, Robertson offers a glimpse into the funny, angry, happy and sad years of her life. She learned to navigate through both good and bad relationships, sometimes listened to voices that were not her own, wondered about her purpose, set out on journeys of love, released her spirit, questioned where she went wrong and walked through a raging fire to find heaven.
"I believe that the further down we fall, the higher we rise as we are the strength, the hope and the dreams of our lives and our own futures, even in the times when we are blind to them through darkness, grief or sorrow," Robertson says. "I believe I can create an energetic shift in the world and help people see themselves and each other with new eyes, clean hearts and deeper souls."
"Lifting Waits: A Collection of Poems" serves to remind readers that life is about finding the authentic self because a person has many aspects to the self, but it is the authentic self that is the richest of them all. "For me, my authentic self is real, honest, compassionate, gentle, strong, loving, caring and always growing. The authentic self does not die, it is a result of examining all the other ones, saying this is not authentic, and I do not want it in my life. The same applies to mind, body, spirit and soul," Robertson adds.
"Lifting Waits: A Collection of Poems"
By Patricia M. Robertson
Softcover | 6 x 9in | 52 pages | ISBN 9781504313797
E-Book | 52 pages | ISBN 9781504313803
Available at Amazon and Barnes & Noble
About the Author
Patricia M. Robertson was born in Paisley, Renfrewshire, Scotland. She began writing poems when she was 16. After immigrating to Melbourne, Australia, in 1987, she discovered her true voice in poetry. "Lifting Waits" is her first collection of poems.