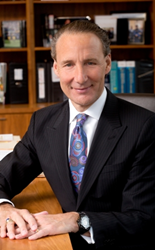 CHICAGO (PRWEB) February 01, 2021
Salvi, Schostok & Pritchard is pleased to announce the firm's founder and Managing Equity Partner Patrick A. Salvi has been listed among the Top 10 Illinois Super Lawyers in all practice areas for the eighth consecutive year. Every year, Super Lawyers evaluates lawyers across the country for its annual list of top attorneys in each state.
Each candidate is measured via a patented multiphase selection process involving peer nomination, independent research and peer evaluation of more than 94,000 Illinois attorneys. Eligible nominees from more than 70 practice areas are considered to determine the "best of the best."
Mr. Salvi has been named to the Illinois Super Lawyers list since its inception in 2005. He concentrates his legal practice in cases concerning serious personal injury, medical malpractice, wrongful death, and mass torts. Mr. Salvi founded the law firm of Salvi, Schostok & Pritchard P.C. in 1982. Under his leadership, the firm has obtained more than $1.5 billion on behalf of injured clients and is routinely recognized as one of the top law firms in Illinois.
An additional eleven attorneys from the firm were named to Super Lawyers' annual list. They include Patrick A. Salvi II, Matthew L. Williams, Jennifer A. Ashley, Thomas R. Mulroy III, Brian L. Salvi, Eirene N. Salvi, Andrew J. Burkavage, John A. Mennie, Rob L. Kohen, Jennifer M. Cascio and Michael J. Schostok. Mr. Williams and Mr. Salvi Jr. were listed in the 2021 Top 100 and Ms. Ashley was listed among the Top 50 female attorneys for 2021.
The lawyers who received the honor are not only dedicated to their clients, but published authors, accomplished speakers, experienced trial attorneys, members of several professional bar associations and highly involved in their community. Each year no more than five percent of Illinois lawyers receive the honor of being named to the publication's annual list.
For more information on Salvi, Schostok & Pritchard's 2021 Illinois Super Lawyers, please contact Marcie Mangan at (312) 372-1227 or mmangan@salvilaw.com.