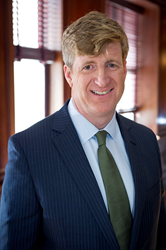 Kaden represents the future of accessible, personalized care. I'm proud to work with this talented team of professionals who are dedicated to facilitating the change we need.
NEW YORK (PRWEB) March 18, 2020
Kaden Health, the digital behavioral health company dedicated to combatting the opioid crisis, is pleased to announce today that Patrick J. Kennedy, Rhode Island's eight-term First Congressional District Representative and longtime mental health and addiction recovery advocate, has joined Kaden as a Board Observer.
Mr. Kennedy is the founder of The Kennedy Forum, a nonprofit that aims to promote health equity by advancing evidence-based practices, policies, and programming around mental health and addiction. He is also a founding advisor of Advocates for Opioid Recovery (AOR), an organization focused on advancing evidence-based treatment systems to reduce death and suffering from opioid addiction.
As opioid-related deaths continue to devastate American families, Kaden's Virtual Medication Assisted Treatment (vMAT) platform is a fully-integrated approach to treat Opioid Use Disorder.
Leveraging proprietary, cutting-edge mobile virtual technology and a custom network of medical professionals and therapists, Kaden has become a crucial in-network platform and provider for forward-thinking health plans. Patients then have access to Kaden services and technology platform for ongoing treatment and support via their smartphone, tablet or PC. This unfettered access to effective treatments is exactly the type of support needed to put patients firmly on the path to recovery. The Kaden Board of Directors and its observers provide critical input and guidance in delivering that support.
"Patrick's background and expertise positioned him as an ideal addition bringing guidance and support to our executive management team and our board," said Dave Henderson, CEO of Kaden Health. "We look forward to him bringing his knowledge and experiences to bear to make the Kaden platform even more accessible and effective for those struggling with opioid use disorder."
In his role on the board, Mr. Kennedy will share personal and professional insights gained from years of work in health care policy, mental health advocacy, and recovery support systems.
Kennedy is co-author of the New York Times bestseller, "A Common Struggle: A Personal Journey Through the Past and Future of Mental Illness and Addiction." The narrative details his personal struggles, as well as his bold road map for the future of mental health and addiction care in America. In breaking his family's "code of silence," Kennedy openly challenged the stigma and shame commonly surrounding families trying to cope with mental illness or addiction.
During his 16 years in the U.S. House of Representatives, Mr. Kennedy fought to end discrimination against those with mental illness, addiction, and other brain diseases. He is best known as the lead sponsor of the groundbreaking Mental Health Parity and Addiction Equity Act of 2008 (Federal Parity Law), which requires insurers to cover treatment for mental health and substance use disorders no more restrictively than treatment for illnesses of the body, such as diabetes and cancer.
In 2017, he served on the President's Commission on Combating Drug Addiction and the Opioid Crisis.
"To truly address our nation's mental health and addiction crisis, we need smart, innovative treatment strategies that meet people where they are," said former U.S. Rep. Kennedy. "Kaden represents the future of accessible, personalized care. I'm proud to work with this talented team of professionals who are dedicated to facilitating the change we need."
To this end, Kaden has recently reached out to a multitude of health plans and other traditional brick-and-mortar addiction recovery organizations to offer expedited access to the Kaden Technology Platform so that Opioid Use Disorder patients may receive treatment virtually to help alleviate concerns around the coronavirus outbreak.
"We want to do all that we can to ensure that concerns around the spreading of one deadly disease doesn't facilitate the spread or prevent treatment of another," said Mr. Henderson. "We want to do our part to ensure those in need of treatment can continue their recovery without the additional fear of potentially contracting the COVID-19 virus."
"Now, more than ever, there is a serious need for digital treatment solutions like Kaden's Technology Platform," said Kennedy. "When it comes to recovery from OUD, connectedness cannot be compromised—not even during a pandemic. We know physical distancing is critical to stop the spread of Coronavirus, and thanks to Kaden, people who can't seek clinical care in person still have the ability to seek care virtually."
Kaden is presently enrolling and pre-enrolling patients in Connecticut, Maine, New Hampshire, New Jersey, and New York, with six additional states planned throughout 2020. Based on the gold standard of Medication Assisted Treatment and leveraging virtual technology, the Kaden provider-practices in each state offer a more convenient, intuitive and ultimately effective long-term success relative to traditional treatment methods. Kaden's platform integrates all aspects of the patient's therapy and medical care and supports the patient with a concierge Patient Advocate available at any point along their treatment journey.
Kaden's coordinated approach is centered, from the first in-person visit with a medical professional through all succeeding virtual visits and therapy, on the Kaden Technology Platform. This leading-edge intuitive interface allows the patient, therapist, medical prescriber, and the advocate all to communicate and collaborate in ways that are specific to each patient's individual needs and ultimately help the person to reclaim a healthy, productive lifestyle.
This release is for informational purposes only, and no offer regarding the solicitation of the purchase or sale of any security or securities product is made hereby.
About Kaden Health:
Based in New York City, Kaden is a digital behavioral health company dedicated to solving the greatest healthcare challenges of our time with ground-breaking technology and unwavering humanity. Kaden's first product tackles the opioid addiction crisis by positively influencing human behavior and making advanced technologies and proven treatments accessible to all so that no one has to fight opioid or any addiction alone. For more information visit http://www.kadenhealth.com.
About Patrick J. Kennedy:
Former U.S. Rep. Patrick J. Kennedy is founder of The Kennedy Forum, a nonprofit that unites mental health advocates, business leaders, and government agencies in support of mental health equity; co-founder of One Mind, which pushes for greater global investment in brain research; co-chair of Mental Health for US, a nonpartisan initiative to elevate mental health and addiction in policy conversations during the 2020 election cycle; and founder of DontDenyMe.org, an educational campaign that empowers consumers and providers to understand parity rights and connects them to essential appeals guidance and resources.
Contacts:
Kaden Sales and Business Development: Randy Ringpfiel -- randyr@kadenhealth.com
Kaden Marketing and Public Relations: Marc Warner -- marcw@kadenhealth.com