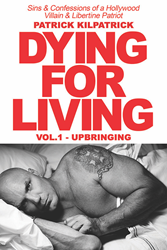 'A searing Hollywood tell all memoir!"
LOS ANGELES (PRWEB) September 28, 2018
With Volume 1 set for release on October 1, 2018, and Volume 2 later this year, Kilpatrick is hosting launch events in Washington D.C. on Wednesday, October 3, starting with a private press conference luncheon at the National Press Club (open to the media and invitees only), followed by an evening celebration and book signing at the Kennedy Center (open to both the media and public). Joining Kilpatrick for the festivities will be special guests: Sean Stone (actor/director/producer, Oliver Stone's son), Scott Evans (host of NBC's Access), and Bai Ling (actress).
"Although elegantly revealed, Dying For Living rips through social norms without regard to sensibility or political correctness," explains Kilpatrick. "Plot lines - murderous bi-polar assaults by an adulterous mother, privileged education amidst pastoral splendor, and American Revolution patriotism. Also included, bi-racial affairs and incendiary politics… not to mention, a near fatal car accident, motorcycle crashes, and a global vision for 21st Century America".
Having dominated the silver screen for three decades with appearances in more than 170 hit films and television programs as a lead actor, producer, screenwriter, director, 'Movie Black Belt' and entertainment teacher, Kilpatrick's latest role of acclaimed author is an exhilarating progression for the action-industry titan. With a covertly assembled treasure trove of insider intel gleaned through this accomplished Hollywood resume, the genteel 6'2" star deploys wicked insights to provocative use throughout these penetrating memoirs.
"Almost universally, all great movies and books possess romance, eroticism, war in its many forms, redemption, laughter, pathos, death, tragedy and action," Kilpatrick continues. "For those of you lusting, salivating, wishing and hoping for unvarnished, inglorious, and heroic behind-the-scenes elements of Hollywood, I boldly refer you to Dying For Living".
A cinema hero with a heart, Kilpatrick will be donating a percentage of his book sales to the Disabled American Veterans, a 100-year-old organization devoted to servicing disabled warriors.
The Kindle Edition of Volume 1 of DYING FOR LIVING – Sins & Confessions of a Hollywood Villain & Libertine Patriot, is available to purchase now on Amazon.