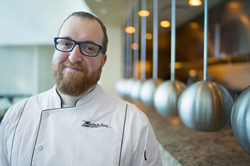 DETROIT (PRWEB) June 13, 2019
MotorCity Casino Hotel recently announced that Patrick Rodemeyer has joined its fine dining restaurant Iridescence, the only AAA-Four Diamond restaurant in the city of Detroit.
In his new position, Rodemeyer will be responsible for creating new recipes, managing future menu development, and contributing to the award-winning Iridescence dining experience.
Rodemeyer will be rolling out a new menu on Wednesday, June 19, which will include new offerings along with twists to some Iridescence favorites. He draws inspiration from the seasons, culinary trends, and his own experiences. In addition to the new menu, the Wine and Dine and 5-Course Tour will still be available for guests to enjoy.
"When creating the new menu I wanted to take ingredients and techniques of fine dining and present them in a fun and different way," says Rodemeyer. "I want our guests to have a multi-sensory dining opportunity that engages their emotions."
"Patrick has already taken Iridescence to new levels," says Vice President of Food and Beverage, Ray Bertschy. "We're looking forward to having our guests experience his talents!"
Rodemeyer has received degrees from Schoolcraft Culinary Arts College and Michigan State University. Rodemeyer is a Michigan native and has spent the past ten years in New York City working at several Michelin starred restaurants.
About MotorCity Casino Hotel
Located on Grand River Avenue at the Lodge Freeway (M-10), MotorCity Casino Hotel is owned by Marian Ilitch and is Detroit's only casino-hotel property that has earned a AAA Four Diamond rating for both its hotel and fine dining restaurant. The entertainment complex is comprised of an expansive gaming space including smoke-free gaming areas and an award-winning 400-room ultra-comfortable and high tech hotel with a luxury spa and fitness center. MotorCity Casino Hotel offers several unique dining options including the Assembly Line buffet, The Lodge Diner, Grand River Deli & Burgers, Little Caesars, and Iridescence, an award-winning fine dining restaurant. Other amenities include Sound Board, an intimate live performance venue, and over 67,000 square feet of function and banquet space. For more information about MotorCity Casino Hotel, or to make a reservation, visit http://www.MotorCityCasino.com or call 1-866-STAY-MCC.