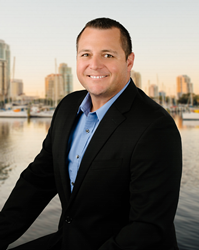 "He's a proven business leader with over 20 years of experience focusing on technology and leading teams through periods of tremendous growth. He fully embodies all of the qualities that make 360 Advanced a special company."
ST. PETERSBURG, Fla. (PRWEB) May 11, 2021
360 Advanced, an established cybersecurity and compliance firm, announces that Patrick Tolliver has joined the leadership team as Chief of Staff. He will drive strategic initiatives across the organization including implementing and managing technologies and services.
"360 Advanced is a unique company that provides tremendous value to its customers in many different ways," said Tolliver. "We're looking forward to marching in one unified direction toward our stated mission of making better businesses."
He joined 360 Advanced from Newgentek where he was the Senior VP of Customer Success and managed relationships across the globe with clients of all sizes and complexities with a laser focus on customer experience and success.
"We are beyond thrilled to have Patrick join our organization," said Dan Collins, CEO. "He's a proven business leader with over 20 years of experience focusing on technology and leading teams through periods of tremendous growth. He fully embodies all of the qualities that make 360 Advanced a special company."
Previously, Tolliver served as the VP of Customer Success at Tampa-based IT Solutions provider, Vology. Prior to Vology, Patrick built and ran IT organizations at several large companies. Early in his career, he spent 10 years as a consultant for Protiviti and Accenture where he provided technology solutions and thought leadership for some of the largest companies throughout North America and beyond. He received his BS in Management Information Systems from the University of Central Florida.
About 360 Advanced
360 Advanced is "Making Better Businesses" through their national Cybersecurity and Compliance offerings. Services provided include SOC 1, SOC 2, SOC 3, SOC for Cybersecurity, CSA STAR, HIPAA/HITECH, ISO 27001, PCI-DSS, HITRUST CSF, Microsoft SSPA Attestation, Penetration Testing, GDPR, CCPA and more. In certain states, 360 Advanced may operate under the name of Hiestand, Brand, Loughran, P.A. to meet State Board of Accountancy requirements. To learn more about 360 Advanced, visit http://www.360advanced.com.
For more information on compliance solutions, contact Jim Brennan at jbrennan@360advanced.com.
Media Contact:
eseward@360advanced.com