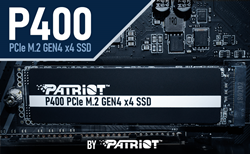 "The PATRIOT P400 M.2 is designed to be an ideal solution for budget-minded users looking to achieve a cost-efficient storage solution with PCI Express gen4x4 performance. P400 is using a slim graphene heatshield which can avoid any physical interference..."
FREMONT, Calif. (PRWEB) January 18, 2022
PATRIOT™, a global leader in performance memory, SSDs, gaming peripherals, and flash storage solutions, is pleased to announce the PATRIOT P400 PCIe Gen4x4 NVMe m.2 SSD with capacities of 512GB and 1TB. The PATRIOT P400 was built using the latest PCIe Gen4x4 NVMe controller and best-in-class components to deliver faster data access, multi-application processing, and quick transfer speeds up to 5000MB/s in sequential. The PATRIOT P400 can offer double the transfer speeds compared to standard PCIe 3x4 solutions with lower power consumption making it the best solution for laptop battery efficiency. In addition, the exclusive thin graphene heatshield provides outstanding heat dissipation, especially in systems with limited space.
"The PATRIOT P400 M.2 is designed to be an ideal solution for budget-minded users looking to achieve a cost-efficient storage solution with PCI Express gen4x4 performance. Our design team has created an excellent thermal solution using a slim graphene heatshield which can avoid any physical interference when using this drive-in system with limited space, such as a thin laptop." Said Roger Shinmoto, the vice president of PATRIOT MEMORY.
The Patriot P400 is built from a single-sided M.2 designed to save space and ensure maximum compatibility with the thinnest laptops and small form factor desktops. Stability and reliability are critical issues when creating outstanding storage products, and each P400 comes with advanced firmware to provide end-to-end data path protection and a Smart ECC technology to ensure data integrity and avoid data corruption during intensive processing. These ensure that peak performance will be sustained while preserving high-performance data transfers across a wide variety of workloads, from video editing, gaming battles to visual and audio creative projects.
The PATRIOT P400 is designed to strengthen the system's overall performance and is backed by PATRIOT's 3-year warranty. The P400 delivers one of the most reliable price-to-performance SSD's on the market.
Availability
The PATRIOT P400 is now available at major retailers:
Amazon:

Newegg:

Patriot official webstore: https://bit.ly/3qACEEU
For more product information:

PATRIOT P400 Marketing Assets Download: click here
About PATRIOT
PATRIOT is the leading manufacturer of high performance, enthusiast memory modules, SSDs, flash storage, gaming peripherals, and mobile accessories. Founded in 1985 and headquartered in Fremont, CA, USA, PATRIOT is committed to technology innovation, customer satisfaction, and providing the best price-to-performance on the market. PATRIOT products have become world renown for their extreme performance, reliability, and innovation. PATRIOT sells its products through original equipment manufacturers, retailers, e-tailers, and distributors throughout the world with operations in North America, South America, Asia, and Europe. All company and/or product names may be trade names, trademarks and/or registered trademarks of the respective owners with which they are associated. Features, pricing, availability, and specifications are subject to change without notice.
Follow us
Facebook: https://www.facebook.com/vipergamingpatriot
Twitter: https://twitter.com/patriot_viper
Instagram: https://www.instagram.com/patriot_viper
YouTube: https://www.youtube.com/patriotviper