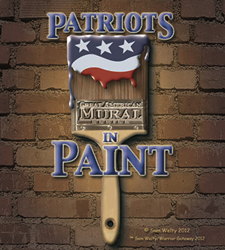 Dallas, TX (PRWEB) October 22, 2014
This Saturday, Warrior Gateway's Patriots in Paint initiative will unveil three large scale murals covering nearly 11,000 sq. ft. of canvas to honor Korean War veterans at American Airlines Sky Ball XII. The murals, painted by artist Sam Welty, at the American Airlines Hangar at Dallas/Fort Worth International Airport will give attendees of the annual gala a glimpse of what it felt like to serve during the Korean War, and will honor the nine Korean War Medal of Honor recipients who will be in attendance. The murals will also serve as a catalyst to increase philanthropic giving before and during Sky Ball XII. All funds raised through the mural creation process will be donated to the Airpower Foundation to support organizations in the Dallas/Fort Worth area serving veterans and military families.
"We launched the Patriots in Paint initiative in 2012 to honor veterans and military families through the transformation of outdoor spaces." Said Devin B. Holmes, Warrior Gateway's Chief Executive Officer. "We are very excited to unveil our largest mural project to date at American Airlines Sky Ball XII and look forward to continuing our partnership with American Airlines to honor veterans through large scale murals for years to come."
Mural artist Sam Welty led the charge in designing and painting the three murals, which took over two weeks to complete. Images of the murals will be released after Saturday's sold out gala on the Patriots in Paint and Warrior Gateway Facebook pages. Those interested in purchasing prints of the murals can do so by donating on the campaign's Indiegogo page. All funds raised will be used to cover the cost of creating the murals; any additional funds will be donated to the Airpower Foundation.
About Warrior Gateway™: Founded in 2009, Warrior Gateway connects service members, military families, wounded warriors, families of the fallen and our nation's veterans with government and non-profit programs in their local community. Warrior Gateway harnesses state-of-the-art technology and community collaboration to help today's military community make better decisions about what service provider to go to for help. Warrior Gateway programs provide a public forum where people can share their experiences about the quality and effectiveness of those services. In 2011, Warrior Gateway's efforts were recognized with the Federal Computer Week Fed-100 award for significant contributions to the Federal IT community and in 2012 with a ComputerWorld Honors Laureate for innovation in creating an open-source platform for information sharing. A proud partner of the Got Your 6 campaign, Warrior Gateway works to bridge the civilian-military divide with non-profit and government partners. For more information, please visit: http://www.warriorgateway.org
About Patriots in Paint: Patriots in Paint is an initiative of Warrior Gateway designed to build a strong network of community involvement via art and multi-media platforms. Through a large-scale mural series, Patriots in Paint seeks to honor the sacrifice and service of our nation's bravest men and women and inspire millions of Americans across distinct communities to come together and support our nation's veterans. Warrior Gateway, in partnership with mural artist Sam Welty, is creating a national movement that delivers local impact by rallying the community to recognize the work of local organizations serving the military. The murals will serve as a call to action to collaborate and create a holistic solution to support our veterans and military families.