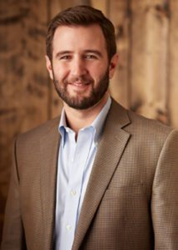 "I'm truly honored to receive this award and proud of what we are building at Patterson Law Group," say Travis Patterson, Co-Founder of Patterson Law Group
FORT WORTH, Texas (PRWEB) August 20, 2020
Nominated in Fort Worth Inc.'s Entrepreneur of Excellence (EOE) Awards, Travis Patterson of Patterson Law Group stands to add a prestigious accolade to his name. Travis has built the firm to an already well-published and decorated business as a Best Business of 2020. His outlook in business and philosophy on his approach is why Travis received a nomination for the award.
The awards program highlights entrepreneurs in the Greater Fort Worth area. The nominations include individuals and their businesses who are independently judged on the following areas:

integrity,
financial performance,
growth,
risk,
leadership,
strategic direction,
innovation,
company values,
key employee initiatives and
community involvement.
The winners will be announced in front of peers, sponsors and fellow finalists from many industries at the Gala Dinner on September 10, 2020. The finalists' interviews will be featured in Fort Worth Inc.'s September/October issue.
Travis Patterson strives to excel in every aspect of the criteria of this award. He invests in the Tarrant County community where he was born and raised. He serves his clients offering modern solutions and caring about his clients' interests above his own.
"I'm truly honored to receive this award and proud of what we are building at Patterson Law Group," says Travis. "We have a very special law firm because we truly care about our clients. We work our tails off and the rest takes care of itself."
Travis was also recently selected as one of the top two personal injury lawyers in all of Tarrant County by 360 West magazine (along with his partner Tennessee Walker).
To learn more about the Patterson Law Group, visit https://pattersonpersonalinjury.com/about-us/.
Read more about ENTREPRENEUR OF EXCELLENCE™ 2020 list at https://fwtx.com/business/entrepreneur-of-excellence.
About Patterson Law Group
Patterson Law Group is a leading personal injury law firm dedicated to helping injured victims throughout Texas. Our headquarters is located in Fort Worth, Texas, with additional locations in Arlington, Texas, and San Antonio, Texas. The attorneys at Patterson Law Group understand the physical, emotional, and financial strain an injury can cause. That's why we wake up every day with one goal — to get justice for those hurting. We are lean, efficient, and accessible.