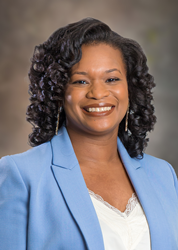 Monique's natural abilities to think on her feet and provide thoughtful insight will greatly benefit us, as well as our clients.
WICHITA, Kan. (PRWEB) November 11, 2021
Patterson Legal Group is pleased to announce the addition of attorney Monique Centeno to its growing law firm, which represents all areas of injury law, including auto accidents, work-related accidents, catastrophic injuries, wrongful death cases, and more. Monique Centeno graduated from Washburn University School of Law in 2005 and is licensed to practice in the state of Kansas.
Prior to joining Patterson Legal Group, Ms. Centeno was a District Court Judge in the 18th Judicial District of Kansas where she presided over trials, issued thoughtful rulings, and was known for having a compassionate ear for all litigants. Before that, she was a trial attorney at Wall Huntington Trial Law.
Outside of office hours, Monique Centeno is a Commissioner on the State of Kansas' Commission on Racial Equity and Justice. She also mentors high school, college, and law school students. She can also be found regularly distributing free food to people in need through Common Ground (a mobile farmer's market) and Salvation Army.
"Monique brings with her a wealth of knowledge, experience, and genuineness that makes her a great fit for our team. As we continue to grow, we know that her natural abilities to think on her feet and provide thoughtful insight will greatly benefit us, as well as our clients," stated Managing Partner Gary Patterson.
For media inquiries about Monique Centeno joining Patterson Legal Group, please contact Ella Reusser at (888) 687-2400 or via email at Ella@pattersonlegalgroup.com.
More About Patterson Legal Group, L.C.
Patterson Legal Group is a personal injury law firm with offices located throughout Kansas and Missouri. Legal assistance is also provided to those injured in Wyoming and Nebraska. Founded on the principle of helping injury victims pursue their legal rights, they are not afraid to take on large insurance companies or to hold negligent persons accountable for injuring a client. Their lawyers are champions of consumer rights with a strong track record for helping people suffering from personal injury or disability. Learn more about the specific legal services and community outreach activities of Patterson Legal Group at PattersonLegalGroup.com. You can also connect and socialize with their legal team through the law firm's Facebook page.