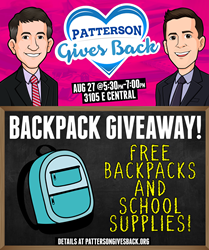 "We decided to host the backpack giveaway to help offset costs associated with preparing for the 2020-2021 school year. " -Gary Patterson, Esq.
WICHITA, Kan. (PRWEB) August 06, 2020
Patterson Legal Group is pleased to announce that their law firm will host a backpack giveaway on Thursday, August 27 at Sedgwick County Park (6501 W. 21st Street, Wichita, KS 67205). 300 backpacks stuffed with school supplies will be handed out in the parking lot next to the Boundless Playground from 5:30 p.m. through 7:30 p.m., while supplies last. The law firm decided to host the backpack giveaway to help offset costs associated with preparing for the 2020-2021 school year.
The law firm is hosting two other backpack giveaways in St. Joseph, MO on Saturday, August 8 and Topeka, KS on Saturday, August 29.
"Parents with school-age children may find this upcoming school year extra challenging because of financial difficulties related to COVID-19 closures. That is why our team decided to host a backpack giveaway. We wanted to assist our community neighbors to offset back-to-school costs and give students tools to make the school year a success," remarked Managing Partner, Gary Patterson.
Social distancing and other precautionary measures will take place to ensure the health and safety of all participants. Those interested in attending are advised to arrive early as supplies are limited and will be given out on a first-come, first-served basis while they last.
For more information about the Patterson Legal Group backpack giveaways, please contact Ella Reusser with Patterson Legal Group at (888) 687-2400, or via email at ella@pattersonlegalgroup.com. You can also contact the law firm by sending a direct message through their Facebook page.
More About Patterson Legal Group, L.C.
Patterson Legal Group is a personal injury law firm with offices located throughout Kansas and Missouri. Founded on the principle of helping injury victims pursue their legal rights, they are not afraid to take on large insurance companies or to hold negligent persons accountable for injuring a client. Their lawyers are champions of consumer rights with a strong track record for helping people suffering from personal injury or disability. Learn more about the specific legal services and community outreach activities of Patterson Legal Group at pattersonlegalgroup.com. You can also connect and socialize with their legal team through the law firm's Facebook page (/PattersonLegalGroup/).