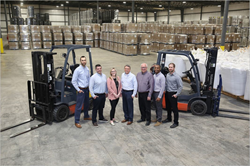 The new Virginia warehouse is a big deal because it allows us to grow smartly and strategically, but this certainly isn't the last you'll hear about new facilities.
MILTON, Pa. (PRWEB) February 10, 2020
Contact: Timm Moyer
P: 570.538.1550
Email: tmoyer@mojoactive.com
Patton Logistics Group, a provider of integrated supply chain solutions for clients throughout the United States and Canada, announced a $12 million investment to establish a logistics and warehousing operation in Pulaski County, Virginia.
Comprised of three independent entities, Watsontown Trucking Company, Patton Logistics, LLC, and Patton Warehousing, LLC, Patton Logistics Group has seen rapid growth in the Mid-Atlantic states and Ohio with Virginia being a complementary extension.
"We couldn't be more excited about our new facility in Pulaski County's New River Valley Commerce Park," said Steve Patton, president, Patton Logistics Group. "It's a good example of how strategically integrating our strengths can help us serve more customers."
The model for growth into Virginia is one that the company also successfully used in building its business in its home state of Pennsylvania. A key to the company's success lies in its ability to provide end-to-end trucking, warehousing, and logistics services.
The company's Watsontown Trucking operates a fleet of 400 trucks and 1,150 trailers, while its warehousing arm oversees 11 warehouses with more than 1.5 million square feet in Ohio, Pennsylvania and New Jersey. The company's 12th warehouse – a 250,000-square-foot structure – will be set within the new Virginia complex, while an additional 200,000-square-foot warehouse was recently acquired in Muncy, Pennsylvania. Once the Muncy and Virginia expansion projects are complete, Patton will be managing and operating over 2 million square feet of warehouse space.
Expected to break ground in March along Interstate 81, the Virginia warehouse will enable the company to offer daily service to major population centers in North Carolina, Pennsylvania, Maryland and Tennessee. More than 30 new jobs will be created as a result of the company's initiative in Virginia. In recent years, the company has hired 100 Virginia-based drivers, who are domiciled at the company's Roanoke, VA regional operations center. The company has plans to add 50 more Virginia based drivers in the next twelve months.
Since acquiring the Watsontown Trucking Company in 1994 with just 10 trucks and 12 employees, Patton says he has built the business on the pillars of good customer service, which led him to expand services into warehousing and logistics to meet his clients' needs. Today, Patton Logistics Group has 560 employees and growing.
"The new Virginia warehouse is a big deal because it allows us to grow smartly and strategically, but this certainly isn't the last you'll hear about new facilities," Patton said. "Everyone at this company is always looking ahead, and we can't wait to see what's in store in the future."