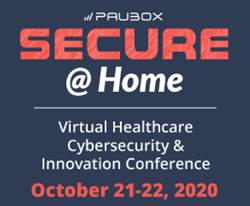 "We are excited to move this conference online for 2020," said Hoala Greevy, Founder CEO of Paubox. "Being virtual allows us to have experienced and dynamic speakers from around the country and helps us reach much more healthcare and IT professionals than a physical conference would."
SAN FRANCISCO (PRWEB) September 28, 2020
For its 3rd annual event, Paubox will present Paubox SECURE @ Home, taking place virtually on October 21 - 22, 2020, featuring keynote speakers like Jeremiah Grossman, CEO & Founder of Bit Discovery, and Kelvin Coleman, Executive Director of National Cyber Security Alliance.
Paubox SECURE @ Home is a healthcare cybersecurity and innovation conference. Focused on generating relevant content, discussions, and networking opportunities, this virtual conference is centered around the challenges of driving innovation in healthcare while keeping data safe.
Paubox SECURE @ Home is perfect for anyone who works in and around healthcare - from hospitals to payers, consultants to investors, and everyone in between. If you understand the rising threat of healthcare attacks, this conference will bring together industry leaders and professionals to network, learn, ask questions, and have meaningful discussions.
"We are excited to move this conference online for 2020," said Hoala Greevy, Founder CEO of Paubox. "Being virtual allows us to have experienced and dynamic speakers from around the country and helps us reach much more healthcare and IT professionals than a physical conference would."
Additional Keynote speakers will include Paddy Padmanabhan, CEO of Damo Consulting, Bruce Snell, Global VP Security Strategy & Transformation at NTT Security, Kurt Hagerman, Principal Cloud Security Advisor at Oracle, Rose-Marie Nsahlai, Senior Technical Advisor at ONC, James Plouffe, Sr. Partner Solutions Architect at AttackIQ, and Hector Rodriguez, Healthcare Industry Executive Director at Oracle.
For a complete list of speakers and ticketing information, visit pauboxsecure.com.
Paubox provides secure email communication for modern healthcare. Right out of the box. Paubox is a leading provider of HIPAA compliant email encryption and email marketing. Ranked number 1 Email Encryption Software according to G2 and ranked number 320 on the 2020 Inc. 500 list.