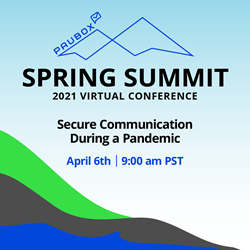 "We are looking forward to hosting this year's summit online," said Hoala Greevy, CEO of Paubox. "Being virtual allows us to stack the lineup with dynamic speakers from around the country. We also believe we can reach more healthcare and IT professionals."
SAN FRANCISCO (PRWEB) April 01, 2021
For its inaugural event, Paubox will present Paubox Spring SUMMIT, Secure Communication During a Pandemic, virtually on April 6, 2021. This summit will feature exceptional keynote speakers like Anshul Pande, vice president and chief technology officer of Stanford Children's Health, and Susan Ibáñez, Chris Lindley, and Julie Jackson of Vail Health.
Paubox Spring Summit is a healthcare, cybersecurity and innovation event. Focused on providing relevant content, discussions, and networking opportunities, this virtual summit is centered around secure communication during a pandemic.
Paubox Spring Summit is perfect for anyone who works in and around healthcare - from hospitals to payers, consultants to investors, and everyone in between. Delving into the rapid adoption of technological solutions to address the pandemic and how the pandemic changed the healthcare attack surface, this summit will bring together industry leaders and professionals to network, learn, ask questions, and have meaningful discussions.
"We are looking forward to hosting this year's summit online," said Hoala Greevy, CEO of Paubox. "Being virtual allows us to stack the lineup with dynamic speakers from around the country. We also believe we can reach more healthcare and IT professionals."
Additional speakers include Tony UcedaVélez, CEO and founder of VerSprite; Michael Parisi, vice president of business development & adoption at HITRUST; Aaron Collins, system administrator at the Development Center of the Ozarks; Howard Rosen, CEO & founder of LifeWIRE, and Michael Mead, BCPA, COO of The Medical Cost Savings Solutions.
For a complete list of speakers and to reserve your free seat, visit pauboxsummit.com
About Paubox
Paubox provides secure email for modern healthcare. Right out of the box. Paubox leads three categories of the G2 Winter 2021 report: Best Email Encryption Software, Best HIPAA Compliant Messaging Software, and Best Secure Email Gateway Software. Offering HITRUST CSF certified solutions, customers can trust Paubox to provide them with seamless, secure, and compliant email products.
###
Contact: Sierra Langston
Phone: 415-795-7396
Email: press@paubox.com
Website: http://www.paubox.com