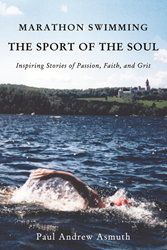 "The story of my marathon swimming journey is how the hand of God directed me throughout my life, to put me in the right place and, more importantly, with the right coaches and teammates who would build my mind, body, and spiritual path to achieve great success..."
LOS ANGELES and SAN FRANCISCO (PRWEB) December 19, 2018
"Everyone has their story as to how they have come to receive rewards in their life, or why they haven't." At the start of Paul's book, he introduces us to the journey of his marathon swimming career. Marathon Swimming: The Sport of the Soul tells the many stories of Paul's successful athletic career. Beyond that, it recognizes the guidance of God and the people who helped him attain his achievements.
Known as "the Legend" in the world of competitive marathon swimming, Paul chronicles and recounts many memorable races in some of the world's toughest waters and reveals how he found the meaning of his life through racing. Experiencing the perils and joys, the challenges and motivations Paul explores the common themes that helped him overcome obstacles.
"The story of my marathon swimming journey is how the hand of God directed me throughout my life, to put me in the right place and, more importantly, with the right coaches and teammates who would build my mind, body, and spiritual path to achieve great success, as improbable as this was in my early days," Paul says of his book. He adds, "Looking back on life, it is easy to see how the decisions we made impacted our future. For me, the links between these choices have been Divine inspirations and appointments. Without my belief that God has a plan for my life, the odds of success seem very low."
In this autobiography, Paul reveals the doubts, uncertainties and struggles he overcame to succeed in his legendary marathon swimming career. While he always had a passion for swimming, what provided a kick start to his career was becoming a three-time NCAA All-American swimmer and team co-captain at Arizona State University where he graduated with a Bachelor of Science degree in Accounting. Following the 1980 Olympic boycott, he let go of his Olympic dreams, embraced professional marathon swimming, and dominated many races. During these unexpected journeys and challenges of life, he learned to trust in God's plan and guidance.
Paul earned numerous accolades in his swimming career, including seven World Professional Marathon Federation titles, eight Atlantic City Around the Island Swim events (23 miles), and six La Traversee du Lac Memphremagog championship records, among many others. He was recognized as the Athlete of the Decade by The Press of Atlantic City in 1990, inducted into the International Marathon Swimming Hall of Fame in 1982, and into the International Swimming Hall of Fame in 2010. Throughout his post graduate swimming career, he continued his work as a California Certified Public Accountant (CPA).
Currently, Paul is the general manager of The Napa Valley Reserve, a private winery and club in St. Helena, California, and on the executive committee of Meadowood Napa Valley, a Triple Five-Star Forbes, Relais & Chateaux resort. He resides in St. Helena with his wife Marilyn and serves on the vestry committee of Grace Episcopal Church and Board of the Land Trust of Napa County.
Marathon Swimming: The Sport of the Soul is a chronicle of Paul's rich experience in his swimming career and spiritual journey. The book's title, The Sport of the Soul, refers to how marathon swimming diminishes all five senses—hear, feel, touch, smell, and sight—where he is moved deeper into his soul to the very essence of who he is and who God has made him to be.
Marathon Swimming: The Sport of the Soul is published by Elm Hill, a division of HarperCollins Christian Publishing. The book is available in eBook, paperback and hardbound formats.