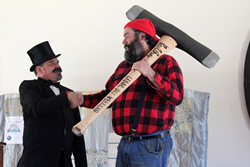 Paul Bunyan Days is a Fort Bragg tradition everyone enjoys..we're so glad we can say goodbye to summer with such a wonderful event.
FORT BRAGG, Calif. (PRWEB) August 14, 2018
Paul Bunyan Days, a tradition since 1939, will stampede into Fort Bragg on Labor Day weekend, August 31-September 1. A Logging Show and Expo, Fun Run and Walk, Ugly Dog Contest, Kiddie Parade and Tricycle Race, Fireman's Ball, and Labor Day Parade and BBQ will keep visitors and locals rollicking all weekend.
Flynn Creek Circus Performs "Adrift"
The Flynn Creek Circus will perform their newest show "Adrift", a balance of classical elements and daring experiments in contemporary circus skills. The Noyo Center for Marine Science at the Crow's Nest on the South Coast Trail is sure to captivate children and adults alike with a powerful connection to the underwater world. Other weekend events include a log rolling contest, lumberjack breakfast, craft fair, gem, mineral and fossil show, Fort Bragg library book sale, Presbyterian women's pie sale, fireman's water fight, hot dog eating contest, horseshoe tournament, and Beer, Bison, and Bluegrass event where patrons can quaff beers from local and regional microbreweries. Grand Marshall this year is Joseph Sverko, a perfect match for this year's theme "Regards to Broadway from Paul and Babe". Joseph has been director of the event's hilarious and lighthearted "Gaslight Gayeties Revue" for more than 20 years, and produces an annual Old -Fashioned Dress Review.
Catch the Gem and Mineral Show all weekend at Town Hall, ride the Skunk Train, or get lost in an ever-changing kaleidoscope of details at one of Fort Bragg's best kept secrets, the massive model train station at the depot. Exhibit is open from 10:30-2:30 p.m. all weekend and admission is free with a Skunk Train ticket.
Saturday Activities Abound
There will be lots of action all day Saturday. Starting at 9:00 a.m. visitors might choose a bird walk at the Mendocino Botanical Gardens, a Horseshoe Contest at Todd's Point (singles or doubles), or a classic car show at Main and Pine. Parents cheer as their kids take part in the Kiddie Tricycle Race and Kiddie Parade from 10:00 to noon (pre-registration at 9:30). Kiddie Games are at CV Starr this year, beginning at 12:30. Register for the ever-popular Ugly Dog Contest at 2:00 p.m. Contest Starts at 3:00 at CV Starr Community Center. There are multiple categories and a prize given to every pooch.
Attention Foodies
Be sure to arrive early for the 10:00 a.m. launch of the Annual Presbyterian Church Pie Sale. Hundreds of pies disappear in the bat of an eye—everything from classic apple, cherry, peach, blackberry, pumpkin, lemon meringue, chocolate and butterscotch cream pies, and more. Purchase whole pies, or pies by the slice à la mode. The Presbyterian ladies sell aprons and other hand crafted items in the church foyer, but most people wait until they are ready to exit with a stack of pies. Everyone rushing in makes a beeline for their favorites before they disappear.
Beer, Bison and Bluegrass, Hot Dog Eating Contest, Fireman's Ball
The 6th Annual Beer, Bison and Bluegrass event from noon to 4:00 p.m. features the Mendocino Quartet, Green Fields, and other special guests at Our Lady of Good Counsel Hall on Maple Street. Quaff local brews and ciders along with Bison Burgers, Hot Dog Plates, desserts, snacks, and wine. Tickets at Brown Paper Tickets, Harvest Market and Out of this World in Mendocino. Watch people stuff their faces at the Hot Dog Eating Contest in front of Reynold's Menswear on Franklin Street at 3:00 p.m. Saturday, and dance the night (and calories) away at The Fireman's Ball starting at 7:00 p.m.
The 2-day Arts and Crafts Fair at CV Starr Community Center starts at 10:00 a.m. with delightful culinary treats on hand as people peruse interesting booths full of jewelry, hand-carved bowls, needlework, pottery, soaps and lotions, wines, hand crafted olive oil, and more. Fort Bragg Library's huge book sale on Saturday and Sunday starts at 10:00 a.m. at Veterans Hall across from the library. Prices are reasonable; fill up a bag on Sunday for $5.00.
Sunday and Monday Highlights: Logging Show, Paul Bunyan Day Parade and BBQ
On Sunday, intrepid souls can indulge in a big lumberjack breakfast at The Fort Bragg Guild north of town—the spot to catch a glimpse or take a selfie with Paul Bunyan as he hunkers down on ham, eggs, hash browns, and golden flapjacks.The weekend's high point is the Logging Show and Expo at Todds Point beginning at high noon. Men and women from three counties compete to win big prize money in events like the Axe Throw, Chainsaw Bucking, and Pole Climb. The Belle of the Redwoods gets her crown, and the Forestland Expo has ecological exhibits and information on sustainable forest management..
Monday registration for the Steam Donkey Fun Run and Walk begins at 9:00 a.m.—race starts at 10:30.The Paul Bunyan Labor Day Parade rolls at noon, and the final event of the weekend is the Lions Club Annual BBQ from noon to 3:00 p.m. in Bainbridge Park. Get a heaping plate of BBQ beef, pork, lamb, or veggie burgers served with beans, coleslaw and bread.
Paul Bunyan Days means fun for everyone in the family. "Paul Bunyan Days is a Fort Bragg tradition everyone enjoys," says Chamber of Commerce CEO Sharon Davis, "we're so glad we can say goodbye to summer with such a wonderful event." Tickets and information for all events available here.