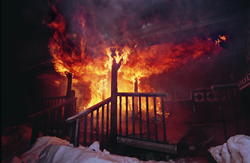 Waking up in the middle of the night to a blaring smoke detector is terrifying but imagine looking out your window in the dark of night to see raging flames tearing toward your home.
JACKSONVILLE, Fla. (PRWEB) August 23, 2019
As National Fire Prevention Awareness Week approaches (October 6-12, 2019), renowned restoration company Paul Davis offers fire safety and prevention tips to keep your family protected. Paul Davis has restored fire-damaged properties for more than 50 years.
Waking up in the middle of the night to a blaring smoke detector is terrifying but imagine looking out your window in the dark of night to see raging flames tearing toward your home. California is still reeling from the pain a year after massive wildfires burned almost half a million acres and killed a firefighter. With climate models suggesting dismal predictions that autumnal fires across the state will get more common as climate change wracks the state, Californians aren't alone in their fears of the devastation fire can wreak on a community. The fiery explosion that killed a firefighter and rocked the small Wisconsin town of Sun Prairie in July of 2018 is a reminder that fires can devastate even the smallest communities.
"Regardless of where you live, it's everyone's responsibility to ensure their family's safety in the event of a fire, said Leslie Anderson, Vice President of Training and Launch for Paul Davis. "And while fire safety tips may seem redundant, reminders are crucial because the devastating effects of fire are far too real for hundreds of families across the U.S. each year."
With more than 300 locations Paul Davis is a leading national provider of water, fire and mold damage cleanup and restoration services for residential and commercial properties. Paul Davis supports this year's fire safety campaign theme, "Not Every Hero Wears A Cape." The following five tips are recommended by Paul Davis to help minimize the risk of fire:
Prepare: Make sure your home has enough smoke alarms. Every bedroom should have a smoke alarm, and one should be installed outside of sleeping areas and near common living areas like the kitchen and foyer. Don't forget to test your smoke alarms every month. For the best protection, interconnect all smoke alarms so they all sound simultaneously when tested.
Plan: Know what to do when you hear the fire alarm sound. Design a fire escape plan for your home that includes two ways out of each room. Start by drawing a map of your home that includes safe routes that lead outside and talk to your loved ones to ensure they understand the plan. Encourage your family to practice an annual fire drill.
Minimize the risk: Nine out of 10 wildfires are started by humans, but people are at fault for most house fires. Cooking-related fires are blamed for nearly half of all home fires, according to the National Fire Protection Association. If you're cooking, stay in the kitchen at all times. Turn off the stove, even if you have to leave for a short time. You should also avoid cooking while tired or under the influence of alcohol. Other suggestions to reduce fire risk include replacing traditional candles with LED versions and always turning off heat-producing devices like curling irons, hair straighteners and space heaters before leaving home and before bedtime.
Check your home: Scan your home for areas that could increase the risk of a fire. Old, worn-down cords can cause an electrical fire. Go through your house and check all your electrical cords for fraying or other signs of wear and tear and replace damaged cords right away. And don't overload electrical outlets. Only one high-wattage appliance should be plugged into each outlet at a given time.
Prevent: When choosing a home, check to see if it was built after 1976 and has the HUD label to certify it meets certain minimum safety standards. Think about reducing flammability inside and outside of the home by selecting flame-resistant designs and materials like tile, slate and asphalt, or Insulated Concrete Forms, which reportedly resist flames for up to four hours.
If a property has been impacted by smoke, soot or ash residential and commercial owners can call Paul Davis to handle property restoration needs. To get help 24/7 or to find the nearest Paul Davis office, visit PaulDavis.com or call 888-473-7669.