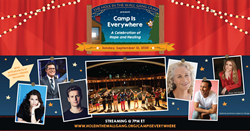 NEW HAVEN, Conn. (PRWEB) September 09, 2020
Soon after Paul Newman founded The Hole in the Wall Gang Camp in 1988, he knew the organization needed an annual event to raise funds for its programs serving seriously ill children and their families. Wanting it to be different than any other fundraiser, in 1990 he staged an entertaining variety show in the Camp's theater featuring inspirational campers performing alongside celebrity friends. It became known as the Fandango Benefit Gala. And during a pandemic when the Camp has shifted all of its in-person programs to alternative and virtual expressions, its 30th gala is following suit as Camp Is Everywhere: A Hole in the Wall Celebration of Hope and Healing streams for free at http://www.holeinthewallgang.org/campiseverywhere on Sunday, September 13th at 7 PM ET.
"Even though we all can't be together at Camp for the Gala this year, it is important to keep the tradition going and remind Hole in the Wall's community of supporters that Camp is everywhere," said CEO Jimmy Canton. "We also hope that this year's virtual celebration will allow us to share the magic of Hole in the Wall with some new friends at a time when the world needs more hope and healing."
Before Newman passed away in 2008, he and author A.E. Hotchner were steadily at the helm of the annual Fandango with Hotchner writing hilarious skits and parodies of musicals that always put Newman in self-deprecating roles. In addition to performing alongside the campers, Newman also invited a who's who of Hollywood and Broadway stars to join him each year including Alec Baldwin, Harry Belafonte, Whoopi Goldberg, Bernadette Peters, Chita Rivera, Julia Roberts, Jerry Seinfeld, Meryl Streep and Robin Williams. No red carpets. No press. The casual event was all about bringing donors to Camp for a festive day in support of the children and their families. In recent years, a mix of old and new celebrity friends have continued to carry Newman's Gala torch and this year the six camper performers will be joined by Stephen Colbert, Dane DeHaan, Jonathan Groff, Melissa Joan Hart, Ethan Hawke, Tyler Hoechlin, John Lithgow, Aasif Mandvi, Bridget Moynahan, Steven Pasquale, Rhonda Ross, Luke Wilson, Anna Wood and other surprise guests. Carole King, who appeared in several Hole in the Wall Galas, will perform a tribute to Hotchner, a founding Camp board member who died earlier this year at age 102.
About The Hole in the Wall Gang Camp
Founded in 1988 by Paul Newman, The Hole in the Wall Gang Camp provides "a different kind of healing" to more than 20,000 seriously ill children and family members annually – all completely free of charge. For many of these children and families, Hole in the Wall provides multiple Camp experiences throughout the year at the facility in Ashford, Conn., in more than 40 hospitals and clinics, directly in camper homes and communities, and through other outreach activities across the Northeast and mid-Atlantic. Learn more at http://www.holeinthewallgang.org.
###