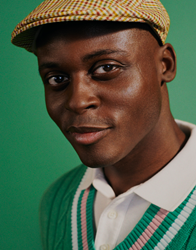 Paulette Garafalo, CEO says, "We worked with GENERAL IDEA to create a distinctive product message that highlights quality and credibility while leveraging the Paul Stuart heritage. Peter's imagery brings a fresh new perspective of the brand that appeals to a broad customer demographic."
NEW YORK (PRWEB) September 14, 2020
Paul Stuart is happy to announce a new collaboration with the creative marketing agency GENERAL IDEA for a multi-layered advertising campaign Because Life Should Be Colorful. It will launch with print advertising in national consumer publications along with digital newsstand and social media platforms. This initiative is designed to support Paul Stuart's eCommerce website, new store openings on Main Street in Southampton, and Broome Street in Soho.
Because Life Should Be Colorful's intention is to present a fresh perspective of Paul Stuart aimed at a modern demographic. Paulette Garafalo, CEO of Paul Stuart says, "GENERAL IDEA was selected for this project because they understood our need for a contemporary reinterpretation of our iconic brand image in the marketplace and provided the new creative twist we were looking for."
The campaign, photographed by Peter Ash Lee, features a cast of real men in the culinary and interior design worlds. The models were photographed wearing Paul Stuart styles in real-life settings in New York City that reflect their unique personalities' in an authentic manner. Garafalo continues, "We worked with GENERAL IDEA to create a distinctive product message that highlights quality and credibility while leveraging the Paul Stuart heritage. Peter's imagery brings a fresh new perspective of the brand that appeals to a broad customer demographic."
In addition to the new media campaign launch, Paul Stuart is excited to announce the opening of their first stand-alone customLAB store at 505 Broome Street in New York's Soho neighborhood. The new store at 846 square feet will feature the customLAB made to order suiting, shirts, and ties along with new Paul Stuart footwear, scarves, and hats. A new Paul Stuart store recently opened at 50 Main Street in Southampton, NY this past July.