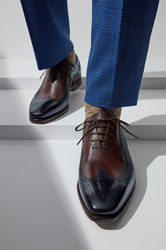 Paulette Garafalo, CEO of Paul Stuart says, "This new made to order collection satisfies a niche that no one else in the luxury menswear category offers."
NEW YORK (PRWEB) February 18, 2020
Widely known for its outstanding tailored clothing and sportswear collections for men and women, Paul Stuart will now offer a complete head to toe experience with the launch of their Made to Order footwear program for men this spring.
The bespoke footwear collection will consist of 7 - 10 silhouettes of loafers, oxfords and monk straps that can be customized using a wide variety of calf leathers and suedes from Italy. These styles will also be available in an extended range of widths and sizes for hard to fit customers.
Paulette Garafalo, CEO of Paul Stuart says, "This new made to order collection satisfies a niche that no one else in the luxury menswear category offers. We know that younger consumers are looking for a way to customize their sartorial choices in order to reflect their personal style. In keeping with the luxury heritage of Paul Stuart, this accomplishes that in a modern and sophisticated way."
Consumers will be able to monogram these shoes with their own initials and select from three sole options: leather, ½ rubber and full rubber. Delivery time is 6 - 8 weeks and retail prices will range from $1000 to $1300 depending on size and material.
Javier Suarez, Creative Director of Footwear says, "Made to Order is in the brand's DNA. The highlight of this collection is how it completes the shoe wardrobe of the Paul Stuart customer who already appreciates Made to Order tailored clothing. Sneakers will always be a part of a man's footwear wardrobe, but a custom-designed shoe that fits like a glove is what Paul Stuart is all about."
About Paul Stuart:
Headquartered in New York City, Paul Stuart, Inc. was founded by Ralph Ostrove and named for his son Paul Stuart Ostrove. The store has remained in its original location since opening in 1938. The company designs exclusive collections of men's and women's tailored clothing, sportswear, footwear, and accessories.
Additional stores are located in Chicago on East Oak Street and LaSalle Street, and a third boutique in Washington, D.C.'s City Center shopping district. The company operates additional stores in more than 50 locations throughout Japan. Paul Stuart is privately held by Mitsui & Co., LTD company of Japan.