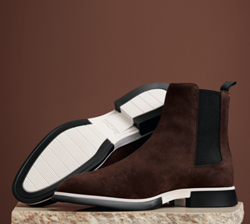 Paulette Garafalo, CEO of Paul Stuart says, "These Metro styles are a sophisticated collection for our customers who look to Paul Stuart for all of their footwear and wardrobe selections."
NEW YORK (PRWEB) October 05, 2020
Paul Stuart is excited to announce the launch of the new Metro footwear collection for men this September. In development for more than a year, the new collection of 12 styles features soft Italian leather and suede uppers with a technologically advanced rubber bottom that is proprietary to Paul Stuart.
The Metro collection evolved from a collaborative relationship with artisanal factories in Italy. These new shoe styles use the softest materials available for a comfortable, sneaker-like fit with sophisticated dress shoe styling. Silhouettes include a chukka boot, a Chelsea boot, a loafer, and a lace-up that are appropriate footwear choices to pair with a tailored suit along with casual jeans.
Javier Suarez, Paul Stuart's Creative Director for Footwear says, "This new collection is a blend of new sneaker sole technology with the updated classic styling of traditional shoes for men. They provide a stylish alternative to a casual sneaker without sacrificing any of the comfort our well-dressed customers are looking for."
The new styles are available in the following combinations of white/black, light grey/black, and solid black. White soles give them the look of a sneaker and black soles a regular dress shoe. Color combinations in leather and suede include brown, black, and grey.
Paulette Garafalo, CEO of Paul Stuart says, "Our customers have told us that they are looking for new styles that feature comfort along with the excellent craftsmanship Paul Stuart is known for. These Metro styles are a sophisticated solution for our customers who look to Paul Stuart for all of their footwear and wardrobe selections."
Metro will be available in all existing Paul Stuart boutiques including a selection at Neiman Marcus and Saks Fifth Avenue stores. Retail prices will range from $395 for a classic slip-on style to $650 for a Chelsea boot. These new styles will also be available in Paul Stuart's new Southampton store that opened this past July and the new customLAB boutique in New York's Soho neighborhood in September.
About Paul Stuart:
Headquartered in New York City, Paul Stuart, Inc. was founded by Ralph Ostrove and named for his son Paul Stuart Ostrove. The store has remained in its original location since opening in 1938. The company designs exclusive collections of men's and women's tailored clothing, sportswear, footwear, and accessories.
Additional stores are located in Southampton, Chicago, and in Washington, D.C.'s City Center shopping district. The company operates additional stores in more than 50 locations throughout Japan. Paul Stuart is privately held by Mitsui & Co., LTD company of Japan.