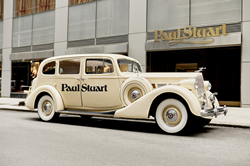 CEO Paulette Garafalo says, "Paul Stuart opened its doors at 45th and Madison in 1938 and we've been at the same location ever since. We are excited to celebrate our longevity with this elevated delivery service while looking forward to a thriving eCommerce business."
NEW YORK (PRWEB) November 11, 2019
Since 1938, the company has been known around the world for its stylish clothing designed for its sophisticated clientele. In honor of the relaunch of their website, Paul Stuart is bringing back a 1938 Packard for same-day deliveries in Manhattan from November 12th through the 15th. Located at the same corner of Madison Avenue and 45th Street since opening day, the store is commemorating its legacy while celebrating its growing eCommerce business.
One of the last remaining haberdasheries in New York, the Paul Stuart branded Packard will deliver to customers at home or at work who spend $1000 online. Paul Stuart's CEO Paulette Garafalo says, "Paul Stuart opened its doors at 45th and Madison in 1938 and we've been at the same location ever since. We are excited to celebrate our longevity with this elevated delivery service while looking forward to a thriving eCommerce future from this address."
The company will offer a complimentary same-day delivery service in Manhattan for online orders over $1k from November 12th – 15th. Trevor Shimpfky, Vice President, Omni Channel says, "The new website will provide a strong platform for improved online customer experience. It will be as easy to use on mobile as a desktop, with more content and branding moments that reflect the luxurious men's and women's collections Paul Stuart is known for."
About Paul Stuart:
Headquartered in New York City, Paul Stuart, Inc. was founded by Ralph Ostrove and named for his son Paul Stuart Ostrove. The store has remained in its original location since opening in 1938. The company designs exclusive collections of men's and women's tailored clothing, sportswear, footwear, and accessories.
Additional stores are located in Chicago on East Oak Street and LaSalle Street, and a third boutique in Washington, D.C.'s City Center shopping district. The company operates additional stores in more than 50 locations throughout Japan. Paul Stuart is privately held by Mitsui & Co., LTD company of Japan.