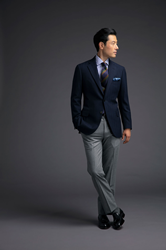 Paulette Garafalo, President and CEO of Paul Stuart says, "We are very excited by the new collections this season that offer a more contemporary point of view for our customers than are normally presented at this time of year."
NEW YORK (PRWEB) October 15, 2020
This season, Paul Stuart's Creative Director Ralph Auriemma takes us on a sartorial trip around the world. Japanese tailors craft new silhouettes in wool, Scottish mills weave cashmere yarns into the softest sweaters and Italian craftsmen create fantastical overcoats using the softest Llama hair from South America. Because life should be colorful, the palette for this journey reflects the United States' New England landscape of rolling fields and forests of trees with their leaves turning bright red, orange, and yellow.
City Sportsmen:
Inspired by country clothing originally designed to be worn for specific sporting activities, these new City Sportsmen styles are suitable for both a mountain hike or for a stroll on Fifth Avenue. Rich in color and texture with a tweedy arrogance, new jacket styles feature a soft shoulder and a nipped waist for a leaner silhouette in luxury fabrics. New styles in cotton and cashmere pair with horizontal corduroy trousers in bright blue, violet, green, and orange-red.
Auriemma says the City Sportsmen collection is "The clothing a well-dressed man wears on his city treks. It's menswear with a contemporary point of view." Auriemma mixes Paul Stuart's classic point of view with modern - technical fabrics. For example, high-performance wool that is water and wind-resistant, while also lightweight and extremely comfortable.
Paulette Garafalo, President and CEO of Paul Stuart says, "We are very excited by the new collections this season that offer a more contemporary point of view for our customers than are normally presented at this time of year."
Auriemma takes his inspiration from both military archives and Everest hikers for his outerwear. Both the Italian Deerskin bomber jacket with a removable beaver fur collar or the water-resistant, cashmere puffer jacket stuffed with white goose down could easily be worn on the coldest Alp or during a windy trek down Bond Street in London. Bright color abounds in the Longhair Baby Llama hair single-breasted topcoat.
Modern American Sartorial
The tailored section of Paul Stuart makes up the foundation of Paul Stuart. This is at the core of what the brand is all about. For Fall 2020, modern style is blended with the Paul Stuart heritage for an eclectic mix of patterns and fabrics. Auriemma explains, "I have been working with fabric mills and tailors around the world to contemporize each style we offer our customers." For the first time, Auriemma has collaborated with a Japanese factory on the new Philip sport jacket silhouette. Constructed with a natural shoulder and a higher armhole the Phillip has a sleek line, for a lighter garment that maintains its shape and fit.
Garafalo says, "Paul Stuart is one of the few companies remaining in the menswear category that designs its own collections each season. We are constantly updating our tailored clothing silhouettes and working with mills to develop unique fabrics and materials that are custom to Paul Stuart. The new Philip sports jacket is the perfect example of this."
Accessories are an important finishing touch this fall. From the top to the bottom, the choices are vast and include Italian Casentino wool Newsboy caps in a range of bright colors, bold boucle and mohair wool scarves, deerskin Italian leather gloves, and for the first time at Paul Stuart, the Danish brand Mismo ballistic nylon with leather trim bags.
About Paul Stuart:
Headquartered in New York City, Paul Stuart, Inc. was founded by Ralph Ostrove and named for his son Paul Stuart Ostrove. The store has remained in its original location since opening in 1938. The company designs exclusive collections of men's and women's tailored clothing, sportswear, footwear, and accessories.
Additional stores are located in Southampton, NY's Soho neighborhood, on East Oak Street in Chicago, and in Washington, D.C.'s City Center shopping district. The company operates additional stores in more than 50 locations throughout Japan. Paul Stuart is privately held by Mitsui & Co., LTD company of Japan.