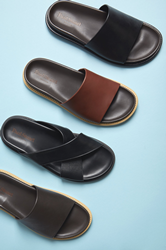 Paulette Garafalo, CEO, and President at Paul Stuart says, "We are happy to announce that not only are the new silhouettes available at Paul Stuart but Nordstrom customers will now find a selection of Paul Stuart sneakers, sandals, and loafers online and instore as well."
NEW YORK (PRWEB) March 22, 2021
For over 80 years, Paul Stuart footwear has been known around the world for its exceptional quality and luxurious materials. With the launch of the new Spring 2021 collection, these new styles offer a sophisticated, casual flair that complements our modern lifestyle.
Everyone agrees that footwear is the finishing accessory to a well-dressed man's wardrobe. Utilizing the finest suede and leather, the spring collection is designed for the man who demands well-made shoes whether he's working from home or the office.
Javier Suarez, Creative Director for Footwear says, "The casual lifestyle brought on by the pandemic allowed us the opportunity to present a new collection filled with stylish options in easy-to-wear footwear. The Spring Summer 2021 collection celebrates and reflects this new aesthetic with espadrilles, slide sandals, and lace-less sneakers."
The collection features a number of new styles that are a departure from the typical footwear selections that Paul Stuart has presented in the past. New silhouettes made in Italy and England reflect the contemporary dressing trends that are taking over the menswear category. Slip-on loafers in 3 colors, lace-up and slip-on sneakers in leather and suede, and 3 different types of espadrilles also in leather and suede are available this season.
Paulette Garafalo, CEO, and President at Paul Stuart says, "The Paul Stuart range of modern shoe styles is ideal for the customer who is looking for a wide variety of footwear to choose from. We are happy to announce that not only are the new silhouettes available at Paul Stuart but Nordstrom customers will now find a selection of Paul Stuart sneakers, sandals, and loafers on their website as well."
Prices range from $265 for the Milo pebble grain leather espadrille with a rubber sole, $550 for the Paulo leather crisscross strap sneakers, and $1495 for the Memphis hand-embroidered suede slip-on loafer. Suarez adds, "I am proud to present these new men's footwear styles that add the perfect finishing touch to our current fashion reality."
Available at Paul Stuart stores and at department stores across the country including Neiman Marcus and Saks Fifth Avenue, this new collection will now be available at Nordstrom.com and Nordstrom stores.
About Paul Stuart:
Headquartered in New York City, Paul Stuart, Inc. was founded by Ralph Ostrove and named for his son Paul Stuart Ostrove, has remained in its original location since opening in 1938. The company designs exclusive collections of men's and women's tailored clothing, sportswear, and accessories. Additional stores are located in Southampton, New York, Chicago, and Washington, D.C.