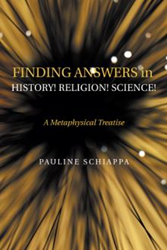 PALM BEACH GARDENS, Fla. (PRWEB) October 17, 2018
A mysterious tremendous comes to reveal itself in the course of the lifetime of an earthly human. So mysteriously confronted by "it," the earthly human becomes awed by this compelling attribute. Earthly human becomes so enraptured by "it" that earthly human begins to consider "it" as a quality that defines and explains his human nature. Earthly human desires to know; earthly human desires to understand that which earthly human physical body sense experiences of earthly reality. Earthly human holds so much psychological and intellectual desire toward knowing "it" that earthly human gives "it" a name – truth.
How does earthly human find truth?
Human sapient is innately compelled to seek truth. Pauline Schiappa, innately sapient due to metaphysical awareness of human "Mind Life," recognized and realized that earthly reality does not reveal truth. Thus, the author suggests a metaphysical treatise, "Finding Answers History! Religion! Science!" (published by AuthorHouse) in attempt to consider finding truth. In here, she argues that earthly social humans tend to earthly socially think in thought quality of personalized perceptions, personalized impression, personalized opinions. There are over 7,000,000,000 earthly human perceptions, impressions and opinions out there, no two of which agree "What is earthly reality? What earthly reality should be, not, that which earthly reality, in secular social fact manifests that earthly reality is?"
Those who are interested to know more about the details of the book may visit https://www.authorhouse.com/Bookstore/BookDetail.aspx?BookId=SKU-001184300.
"Finding Answers History! Religion! Science!"
By Pauline Schiappa
Hardcover | 6 x 9in | 424 pages | ISBN 9781546239192
Softcover | 6 x 9in | 424 pages | ISBN 9781546239208
E-Book | 424 pages | ISBN 9781546239185
Available at Amazon and Barnes & Noble
About the Author
Pauline Schiappa holds five degrees, two Bachelors of Arts, one in history, one in philosophy; two Masters of Arts, one in educational psychology, one in educational administration; and completed studies at Fordham University in New York City toward a doctorate in cognitive development. The author is a traveler of the world visiting over 100 countries, all 50 United States, the Seven Wonders of the World, the North Pole and the South Pole, and has stood upon the equator.