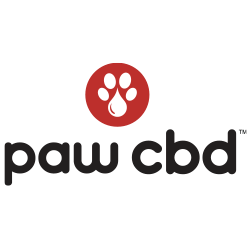 At Paw CBD, we believe that pets are family, too. They offer us love, comfort, companionship, and they make our lives better. So they deserve the very best care we can give them - Martin Sumichrast, co-CEO of cbdM
CHARLOTTE, N.C. (PRWEB) September 15, 2021
cbdMD, Inc. (NYSE American: YCBD, YCBD PR A) (the "Company"), one of the leading and most highly trusted and recognized cannabidiol (CBD) brands, announced today that its CBD pet product, Paw CBD Kidney Support Chews for Cats, has been selected as winner of the "Overall Cat Health Product of the Year" award in the 3rd Annual Pet Innovation Awards Program, the industry's most robust recognition platform for the innovators and leaders of the pet industry. In 2020, Paw CBD's CBD Calming Chews product was recognized with the "Dog Calming Product of the Year "award by Pet Independent Innovation Awards.
Paw CBD has created a cat-specific line and taken the promising benefits of CBD a step further to address one of the most common issues affecting a cats' quality of life: kidney health. The company has taken their original Paw CBD Soft Chew and added the following ingredients to help support feline kidney health:

Astragalus which may help to lower blood pressure
Licorice Root which may help ease inflammation
Nettle which may increase water and salt expelled from the body
The Paw CBD Kidney Support Chew comes in a tasty salmon flavor that cats love, and the soft texture makes it ideal for finicky felines – especially older cats or those with sensitive teeth. The chews are available in two strengths, 150 mg and 300 mg, based on a cat's weight, for more precise serving options and optimal effectiveness.
"At Paw CBD, we believe that pets are family, too. They offer us love, comfort, companionship, and they make our lives better. So they deserve the very best care we can give them, which is why we are committed to providing premium hemp-derived options for the animals we share our lives with," said Martin Sumichrast, co-CEO of cbdMD. "Knowing the many benefits of CBD, Paw CBD has created a product to support and enhance the health and wellbeing of our feline friends. We're honored once again this year to be recognized by the Pet Innovation Awards."
The mission of the annual Pet Innovation Awards Program is to honor innovation and recognize the excellence, hard work and success in a range of Pet Care industry categories, including Apparel, Grooming & Cleaning, Food & Treats, Health, Housing, Toys, Training, Retailers & Services and more. The 2021 Pet Innovation Awards attracted more than 1,250 nominations from around the world.
"While products in the growing pet CBD market are plentiful, cats are a neglected segment. Very few products are made specifically for them and their needs. Paw CBD offers both CBD oil tinctures and treats for our feline friends to help ensure a healthy and happy life," says Travis Grant, Managing Director for Independent Innovation. "Congratulations to Paw CBD on winning our 'Overall Cat Health Product of the Year' award."
About cbdMD, Inc.
cbdMD, Inc. is one of the leading and most highly trusted and most recognized cannabidiol (CBD) brands with a comprehensive line of U.S. produced, THC-free[1] CBD products. Our cbdMD brand currently includes over 130 SKUs of high-grade, premium CBD products including CBD tinctures, CBD gummies, CBD topicals, CBD capsules, CBD bath bombs, CBD bath salts, CBD sleep aids and CBD drink mixes. Our Paw CBD brand of pet products includes over 45 SKUs of veterinarian-formulated products including tinctures, chews, topicals products in varying strengths, and our CBD Botanicals brand of beauty and skincare products features 15 SKUs, including facial oil and serum, toners, moisturizers, clear skin, facial masks, exfoliants and body care. To learn more about cbdMD and their comprehensive line of U.S. grown, THC-free[1] CBD oil products, please visit http://www.cbdmd.com, follow cbdMD on Instagram and Facebook, or visit one of the 6,000 retail outlets that carry cbdMD products.
About Paw CBD
Paw CBD is a nationally recognized pet consumer cannabidiol (CBD) brand, offering 40+ pet consumer products that combine the properties of CBD oil with "animal-approved" flavors like peanut butter, catnip, and turkey. Paw CBD is one of the fastest growing brands in the pet CBD space and is proud to have partnered with Instagram celebrities, such as Nala Cat and the late Lil Bub. To learn more about the comprehensive line of THC-free[1] Paw CBD pet products, please visit PawCBD.com or follow Paw CBD on Instagram and Facebook.
About Pet Innovation
The Pet Independent Innovation Awards program is part of The Independent Innovation Awards program which is devoted to recognizing and honoring only the most innovative companies, services, and products. The Pet Independent Innovation Awards provide public recognition for achievements within the rapidly expanding Pet industry. Award winning companies and products include Apparel, Grooming & Cleaning, Food & Treats, Health, Retailers & Services and more.For more information visit: petinnovationawards.com
[1]THC-free is defined as below the level of detection using validated scientific analytical tools.