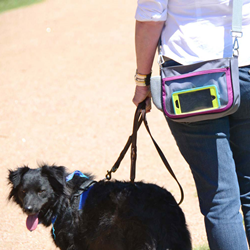 Dogs are welcome at more locations than ever before--which makes it crucial to have everything from poop bags to treats at your fingertips.
AUSTIN, Texas (PRWEB) September 03, 2019
PawZaar, the online store that lends a helping paw to shelter pets, has launched its new CALL OF THE WALK™ dog walking bags. Combining the features of a dog walking bag and with the conveniences of a crossbody phone bag, the CALL OF THE WALK bags contain dog walking essentials and feature a transparent cell phone pocket for screening calls during the walk.
"Dog walks are the highlight of my day," explains PawZaar founder Paris Permenter. "For years, I've been looking for a solution to my problem of gathering all the things I want to carry on those dog walks as well as on other outings with our dogs–day trips, patio dining at dog-friendly restaurants and shopping at dog-friendly stores. I wanted a dog walking bag that held everything that both the dogs and I might need while we're out."
As the co-author of three books on day trip travel as well as Texas with Dogs, Permenter notes the rise in dog travel. "Our dogs are welcome at more and more locations these days, from dog-friendly hotels to restaurants to special events," notes the Austin, Texas dog mom. "To ensure that places remain dog friendly, it's so important to carry all the essentials to tend to your dog's needs, from poop bags to drool rags to treats for refocusing and rewarding good behavior. Our new bag keeps those items at my fingertips while letting me carry my essentials as well, from a wallet to hand cleaner to my cell phone."
After surveying the PawZaar community for tips on what makes a perfect dog walking bag and talking to dog trainers and other pet professionals, Permenter came up with the CALL OF THE WALK™ dog walking bag.
Features of the dog walking bag include a zippered, clear exterior pocket to allow dog walkers to screen calls as they walk without missing a step, reflective trim for evening walks, an interior poop bag dispenser, and a treat pocket with magnetic close. The fully adjustable strap permits crossbody or over the shoulder wear.
The dog walking bags also feature D-rings, perfect for hanging PawZaar's new YUCKY PUPPY™ wet bag for dogs. Similar in concept to the popular wet bags used by moms everywhere for dirty diapers and soiled clothes, the YUCKY PUPPY is a waterproof solution to the problem of how to carry that full bag of dog poop on dog walks and hikes.
Every bag ships with a free roll of poop bags as well as the photo of a shelter dog whose care has been sponsored by the PawZaar community. Each purchase helps sponsor the care of a shelter dog at San Antonio's Animal Defense League of Texas.
For more information, please visit https://www.pawzaar.com.
About PawZaar
PawZaar.com was founded by guidebook writers (and husband-wife team) Paris Permenter and John Bigley. The online store features accessories for pet lovers; every purchase includes a card featuring the photo of a shelter pet whose care has been sponsored by the PawZaar community.
About Paris Permenter
Paris Permenter, along with her husband, John Bigley, has authored 35 pet and travel guides. They share their home in Austin, Texas with two rescue dogs and three cats.