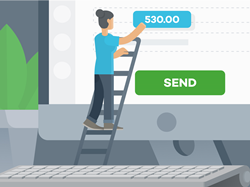 ISVs can quickly enable our digital invoice feature within their application to support remote billing, which streamlines the collection of payment.
SANTA BARBARA, Calif. (PRWEB) April 15, 2021
PayJunction, a leading developer of payment processing technology, announced the ability for software developers to swiftly incorporate digital invoicing into their systems via PayJunction's Application Programming Interface (API) tools. It allows businesses to replace manual paper-based invoice practices as well as accept payments away from an in-person checkout counter by sending customers an invoice payment request for an amount due directly from the same POS or management system used to run their business.
"COVID-19 introduced new business models like curbside servicing and remote payment collection that limit in-person interactions," said Randy Modos, president, PayJunction. "ISVs can quickly enable our digital invoice feature within their application to support remote billing, which streamlines the collection of payment."
The solution supports the ability to create an invoice, associate it with a customer record, add notes, attach a PDF, view payment status, and send reminder emails. Customers receive an email with the business name and a request to pay the amount due. They press the "Pay Now" button, enter card details into a simple and secure form, and press "Pay." A receipt is automatically emailed. Transactions automatically flow into client records and accounting systems, and staff can search and retrieve invoices with just a few clicks.
Remote invoice payment requests improve receivables and bring efficiencies to back-office processes and eliminates staff having to play telephone tag with customers to collect payment details. Digital invoices are just one form of safe, contactless payment functionality that has been added to PayJunction's API. Others include:

Integration with PayJunction's customer-facing ZeroTouch Terminal to process in-person payments. The amount due is automatically sent from the POS and customers pay via a simple swipe, insert or tap of their contactless card, phone or wearable.
Disabling signatures and receipts speeds the checkout and removes unnecessary touchpoints.
Adding a "Pay Now" button to a website, emails or mobile app that allows customers to enter card details into a secure, hosted form.
Tokenizing card details and securely storing with client records to support future or recurring payments.
Developers can view all API documentation and subscribe to get updates on PayJunction products and APIs at developer.payjunction.com.
About PayJunction
PayJunction, founded in 2000, has continually disrupted the payment processing industry with an approach that combines customer advocacy, transparent and ethical pricing, and environmental consciousness. PayJunction's cloud-based gateway and processing platform consolidates credit, debit and check transactions made in person, online, over the phone and on the go. Its technology helps businesses increase productivity, reduce costs and elevate the customer payment experience. PayJunction processes over $5 billion annually for US-based businesses. PayJunction's dedication to valuing long-term relationships over short-term profit has earned the company widespread recognition and awards from Stevie®, Glassdoor® and others.