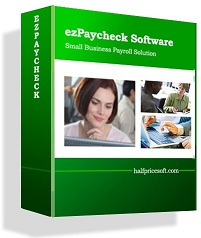 Current 2016 ezPaycheck customers may add additional installations for a network at a lower cost.
Boston, MA (PRWEB) May 11, 2016
Customers currently utilizing ezPaycheck 2016 payroll software are excited to learn that additional installations may be purchased at a valued cost. Rather than purchasing additional single versions at full cost, the additional network versions are offered at a discount to accommodate current customers. Business owners can now grow the company and add on as many network installations as needed to process payroll. Simply contact Halfpricesoft.com developers and a special link will be sent to purchase the additional installations.
Here are the two options to run payroll software over network:
Option 1: Install ezPaycheck on client machines and share the same database file on the server.
Option 2: Install ezPaycheck on server and give remote access permission to multiple users
"Current 2016 ezPaycheck customers may add additional installations for a network at a lower cost," said Dr. Ge, founder of Halfpricesoft.com.
An employee is considered anyone who receives a paycheck, such as a freelancer or independent contractor. ezPaycheck developers state that as the company grows and customers add more contractors or hire anyone on full time, there will be no additional fees.See more at: http://www.halfpricesoft.com/
Customers will appreciate all these features in the latest release of ezPaycheck payroll software:

Multiple accounts under one business name without additional charges
Offers free customer support for software during trial period and after purchase
Supports multiple differential pay rates such as: hourly, salary, night shift, by piece, by load, or by mileage rates for employees
Supports unlimited client accounts at no additional charge
Supports network access for two to ten installations
Supports daily, weekly, biweekly, semimonthly and monthly payroll periods. Features report functions, print functions, and pay stub functions
Prints miscellaneous checks as well as payroll calculation checks
Prints payroll checks on blank computer checks or preprinted checks
Automatically calculates federal withholding tax, social security, medicare tax and employer unemployment taxes
Includes built-in tax tables for all 50 states and the District of Columbia
Creates and maintains payrolls for multiple companies, and does it simultaneously
Prints Tax Forms 940, 941, W-2 and W-3
Business owners can test drive ezPaycheck payroll software without cost or obligation for 30 days.
Customers can download ezPaycheck at http://www.halfpricesoft.com. All features are included, along with a sample database for testing. For continued use beyond 30 days, a full-use license key can be purchased for just $89 per calendar year, per installation. Network versions sold separately..
There is never a cost or obligation to test this low cost, high quality software application. Download at http://www.halfpricesoft.com/index.asp
About Halfpricesoft.com
Halfpricesoft.com is a leading provider of small business software, including payroll software, employee attendance tracking software, accounting software, check printing software, W2, software, 1099 software, and ezACH direct deposit software. Software from halfpricesoft.com is trusted by thousands of customers and will help small business owners simplify their payroll processing and business management.