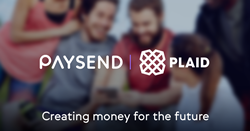 Speed is at the heart of everything we do here at Paysend, and the partnership with Plaid will play a big role in how we make our transfers even faster in the future.
LONDON (PRWEB) April 27, 2021
Global FinTech Paysend today announced a collaboration with Plaid, a leading open finance platform and financial data network, to provide customers with a more streamlined experience in connecting and transacting from their bank accounts to Paysend's money transfer app.
Paysend's global money transfer service allows users to pay and send using bank or card details, and with 90% of transfers arriving in 15 seconds or less, maintaining fast and seamless interaction between the user's bank account and Paysend account is essential. Paysend has been fast growing to 3.5 Million customers thanks to its secure, instant and convenient service.
The introduction of Plaid's Open Banking capabilities into Paysend's platform paves the way for new products and services that will increase the speed of the payment process even further and reduce customer friction points which could otherwise result in abandoned transactions.
The collaboration between Paysend and Plaid cements a new milestone in Paysend's mission to develop the next generation of integrated global payment ecosystem to save time, save money and serve millions of customers all around the globe. Plaid will provide instant authentication when customers are redirected to third-party banking providers to speed up Paysend's transactions. This will eliminate the need for Paysend customers to enter their online banking login details or conduct manual bank transfers, reducing the time it takes to connect accounts and make transfers by 80%.
"Speed is at the heart of everything we do here at Paysend, and the partnership with Plaid will play a big role in how we make our transfers even faster in the future," Ronnie Millar, Paysend CEO said. "The Open Banking solution provided by Plaid will reduce friction in the payment process, providing our 3.5 million customers with an even smoother Paysend experience. Moving forward, the collaboration with Plaid's Open Banking service will help us to gain more insights into what our customers want by enabling them to safely and securely share their transaction data. In the future we will be better-positioned to provide personalised recommendations to customers based on real-time, data-based insights."
"In the face of economic challenges Covid-19 has brought on, fintech companies like Paysend provide an easier, more convenient, and lower cost alternative for people to send money to friends and family abroad," said Keith Grose, Head of International at Plaid. "With Plaid's Open Banking payments, Paysend can offer a solution that keeps costs low and improves the user experience. Ultimately, that means their customers can send money with less hassle and get to keep more of it in their wallets."
About Paysend
Paysend is a global FinTech company born in 2017, based in UK and regulated by the FCA. Servicing over 3.5 million customers in 50+ countries and multiple currencies, Paysend enables instant cross-border transfers, card processing and merchant acquiring as well as local payments in a way which is simple, smart and secure.
As a global end-to-end payment platform Paysend has its own global network of banks, international and local payment systems, and has partnerships with the major international card networks Visa, Mastercard and China Union Pay as a principal member and certified processor. Paysend recently opened its US and Canada operations and secured a partnership with Alipay in order to grow its global footprint.
Paysend is money for the future.