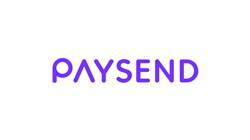 "This $125m B Round investment will allow us to take our platform to the next stage, innovating and expanding geographically to target the $133tn opportunity in cross-border payment flows."
LONDON (PRWEB) May 26, 2021
Paysend, the card-to-card pioneer and international payments platform, has closed a Series B funding round of $125m, led by One Peak, with participation from Infravia Growth Capital, Hermes GPE Innovation Fund, and existing long-term investors including Silicon Valley based Plug and Play.
The funding will help Paysend expand its international footprint and speed up product innovation, enabling it to further accelerate its impressive growth trajectory.
Paysend is one of the world's fastest growing FinTechs, reaching over 3.7m consumers, 17,000 SMEs and 110 receiving countries since its founding in April 2017. Paysend is targeting the $133tn opportunity in cross-border payment flows through its vertically integrated platform and innovative card-to-card payments solution. Paysend's platform is unique, owning the entire payment value chain; it removes the need for third-party acquirers or processors which increase cost and complexity, delivering savings and efficiency back to end user consumers and SMEs.
70% of international payments are currently still cash-to-cash, inflicting consumers and SMEs with high fees that average up to 5.2% per transaction and an hour spent by both the sender and recipient to complete each transfer. Paysend's innovative card-to-card service slashes fees by as much as 60%, with instant transfers (which represent now 92% of the total transfers) through the Paysend app; unlocking up to $5.4bn in annual savings for consumers and SMEs by 2025 and millions of hours.
The costs for SMEs to operate globally are currently high and involve many complexities: global multi-currency bank accounts, cross border acquirers, paying staff and suppliers in multiple geographies and currencies. Paysend breaks these barriers to trade by providing SMEs a one-stop-shop to operate globally, at scale and at a significantly reduced cost. Paysend services for SMEs include an international business account, global acceptance of cards and alternative payment methods and even salary disbursal for global employees, all through a single digital service.
Paysend's platform can reduce economic barriers to entry in the payments market by providing immediate access to transfer money to any card holder around the world, connecting 12bn consumers and businesses globally.
Ronnie Millar, CEO at Paysend, commented:
"Paysend's vision is to develop the next generation integrated global payment ecosystem for consumers and SMEs. Our innovative technology is connecting 12bn cards worldwide to pay and send instantly anywhere, anyhow and any currency – we call this Money for the Future. This saves time, saves money and connects millions of people and businesses around the world."
"This $125m B Round investment will allow us to take our platform to the next stage, innovating and expanding geographically to target the $133tn opportunity in cross-border payment flows. There remain significant barriers to entry for consumers and SMEs to pay and send money globally; our platform aims to democratise the service by providing a one-stop-shop to pay and send money to families, suppliers, employees and partners in any currency anywhere in the world at a significantly reduced cost. We are delighted that we have a great new set of investors, led by One Peak, who share our strategic vison for the payments market and backs the team of people who have created Paysend from a start-up four years ago."
Humbert de Liedekerke, Managing Partner at One Peak, commented:
"We are excited by Paysend's enormous growth potential in a massive market, benefiting from a rapid acceleration in the adoption of digital payments. In particular, we are seeing strong opportunities as Paysend moves beyond consumers to serve business customers and expands its international footprint to address a growing need for fast, easy and low-cost cross border digital payments", said Humbert de Liedekerke, Managing Partner at One Peak. "Paysend has built an exceptional payments platform by maintaining an unwavering focus on its customers and constantly innovating. We are excited to back the entire Paysend team in their next phase of explosive growth."
ABOUT PAYSEND
Paysend is a next generation integrated global payment ecosystem enabling consumers and businesses to pay and send money online anywhere, anyhow in any currency. Paysend is a UK-based Fintech operating globally and was created in April 2017 with the clear mission to change how money is moved around the world.
As an end-to-end payment platform Paysend has its own global network of banks, international and local payment systems, and has partnerships with the major international card networks Visa, Mastercard and China Union Pay as a principal member and certified processor. Paysend recently opened its US and Canada operations and secured a partnership with Alipay in order to grow its global footprint.
Paysend supports connections between 12 billion cards globally across Mastercard, Visa, China UnionPay and local card schemes and provides over 40 payment methods for online SMEs. Paysend operates in over 60 countries worldwide and has attracted more than 3.7 million consumers and over 17,000 businesses to its platform.
For further information visit https://paysend.com.
ABOUT ONE PEAK
One Peak is a growth equity firm investing in technology companies in the scale-up phase. The firm provides growth capital to exceptional entrepreneurs and management teams, with a view to transform innovative and rapidly growing businesses into lasting, category-defining leaders. In addition to Paysend, One Peak's investments include Neo4j, DocPlanner, Spryker Systems, Pandadoc, Keepit, Concentra Analytics, Quentic, Coople, DataGuard, Cymulate and Brightflag.
To learn more, visit http://www.onepeakpartners.com.