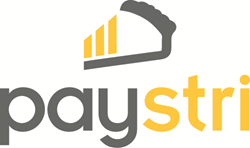 Payments Powered by Paystri grows our business through helping our customers and partners grow theirs
SALEM, Mass. (PRWEB) September 18, 2018
In the world of payment technology, sometimes it takes three to tango. When Sound Payments was in search of a payment acceptance solution to accommodate their ongoing partnership with Retail Realm, they found a perfect fit with Paystri. Sound Payments unique cloud-based, semi-integrated payments model alleviates PCI compliance and makes EMV easy and cost-effective while giving merchants value-added services with its innovative features that give greater flexibility and are accessible from any computer with a browser. Paystri is providing payment processing services and bringing two new payment modules to the partnership. "Paystri PayLater" is a platform that allows dealers the ability to offer multiple financing options at the moment of purchase, and "Dessert" powered by CrowdClix, Inc., is a "surprise and delight" program that can be used in practically any vertical, giving businesses the ability to deliver timely and relevant marketing offers to their customers.
The concerted effort of this new partnership creates an easier transition from RMS (Retail Management Services) to RMH (Retail Management Hero). To demonstrate this, Paystri, along with Sound Payments, will be conducting demo road shows in order to collaborate with dealers and optimize their payment acceptance solutions. Dealers will be given demo terminals in order to showcase their new streamlined transaction process to their customers.
"Working with Paystri has been a great decision. Their team understands the industry and brings fresh ideas to this market," said Craig Duckworth, from Sound Payments. "Their attention to detail and the overall quality of their team has assisted Sound Payments in delivering technology and products previously not possible to the Retail Realm dealer channel."
"Sound Payments has a strong partnership with Retail Realm, and this is another example of how we are working together to increase dealers' recurring revenue and improve retention by offering services that add value for merchants," said Andrew Russell, President of Sound Payments.
Retail Realm's dealer channel is excited to offer the value-added payment features and functionalities of new modules as Retail Realm's VP of Sales, Rachel Smith explains, "We are excited to be in a partnership with Paystri, their commitment to working directly with our dealer channel collaboratively to help drive new business and to add real value with their solution sets them apart from many."
Headquartered in Salem, Massachusetts, Paystri is a payment processing technology company. In addition to providing fast and secure payment processing, Paystri offers customized payment solutions from point of sale to mobile that streamline processes and set companies up for growth. Since 2005, Paystri has maintained the highest standards of service and support to thousands of business owners across the country. For more information, please call us at 978-744-9090 or visit http://www.paystri.com, or email service(at)paystri.com
About Retail Realm
For almost two decades multinational company, Retail Realm has specialized in creating and managing a portfolio of vertical business software solutions that are marketed worldwide through a community of resellers. Retail Realm is a leading distributor of Microsoft Dynamics Retail Management System (RMS), Microsoft Dynamics AX for Retail and the newly announced "Retail Realm Essentials™ powered by Microsoft Dynamics". The company has also adopted additional add-ons and stand-alone products developed by leading companies that enhance or integrate with RMS and/or Microsoft Dynamics AX for Retail.
About Sound Payments
Sound Payments is a multi-channel, diversified technology company headquartered in Jacksonville, FL that delivers innovative technology and software solutions in the Payments, Healthcare and Financial Services Industries. Sound Payments Commerce Solutions delivers integrated payment solutions, state-of-the-art equipment, unparalleled technical support, cloud solutions, business tools for merchants, and advanced security and compliance. For more information, visit http://www.SoundPayments.com.