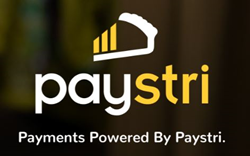 "Two great brands partner to lower costs and increase wellness and fitness," CEO Jonathan Arst of Paystri
SALEM, Mass., and PORTSMOUTH, N.H. (PRWEB) October 12, 2018
Paystri, a leader in the integrated payments technology space, and Anytime Fitness Portsmouth Line have partnered to bring innovative and cost-effective payment solutions to Anytime Fitness members at the brand-new club, opening in the New Hampshire seacoast area. Members will have the confidence of making secure and fast payments anywhere and anytime at the club with contactless NFC, EMV, ApplePay, SamsungPay and traditional swiped transactions.
Paystri Founder and CEO Jonathan Arst commented, "This is a great partnership for both companies, as our senior executives have years of payments experience in the fitness club and gym vertical at both the franchise and corporate levels. Our solutions help club owners focus on running their clubs while we help lower the costs and manage the intricate business of payment processing."
"For many people, joining a gym can be an intimidating and inconvenient experience," said David Nieves, Anytime Fitness club owner. "Our gym is big enough to feature everything you need for a great workout and small enough to provide personalized attention for all of our members. We also provide our members with 24/7/365 access using a computerized key-fob system which caters to those with unique work schedules." To celebrate its presale event, and partnership with Payments Powered by Paystri, Anytime Fitness Portsmouth Line is offering $0 enrollment, a free month for each referral, special rates for first responders and a free fitness consultation. Membership at one Anytime Fitness club also gives members access to more than 4,000 clubs worldwide at no extra charge.
About Paystri
Headquartered in Salem, Massachusetts, Paystri is a payment processing and strategic solutions company serving integrated software vendors, technology companies and merchants. Their payment experts are dedicated to optimizing payment processing infrastructure with the goal of driving revenue for customers. Paystri drives improved profitability and customer satisfaction through streamlined payment infrastructure offerings and world class customer service. Check us out and see how we can help. http://www.paystri.com, info(at)paystri.com, or 978-744-9090
About Anytime Fitness
For membership information, call or email the gym at (603) 373-8885 or NewingtonNH(at)anytimefitness.com.
Ranked #1 on Entrepreneur's prestigious Top Global Franchise list, Anytime Fitness is the fastest-growing gym franchise in the world, with 4,000 gyms serving 3,300,000 members on five (soon to be all seven) continents. Open 24 hours a day, 365 days a year, Anytime Fitness prides itself on providing its members with convenient fitness options and friendly, personal service in well-maintained facilities which feature top-quality exercise equipment. Gyms are now open in all 50 states, Canada, Mexico, Australia, New Zealand, England, Scotland, The Republic of Ireland, Wales, Grand Cayman, Poland, the Netherlands, Spain, Qatar, India, Chile, Japan, Singapore, Malaysia, Hong Kong, China, Taiwan, Belgium, Italy, Sweden and the Philippines. All franchised gyms are individually owned and operated. Join one gym and use them all.