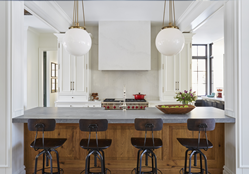 "Being recognized internationally for our creativity and execution is just icing on the cake."
GENEVA, Ill. (PRWEB) November 06, 2019
PB Kitchen Design (PBKD) of Geneva, Illinois is proud to announce they have been awarded the "2019 Antolini Designer Project of the Year" and selected as one of 30 finalists in the international Kitchen Design Contest from Sub-Zero, Wolf & Cove from among more than 1,800 entries.
"When we set out on a project, our goal is to listen to our clients, respect the roles of the other collaborating professionals and deliver a design that reflects the client's ultimate vision of the space," said Dan McFadden, president of PBKD. "Being recognized internationally for our creativity and execution is just icing on the cake."
In the International Kitchen Design Contest from Sub-Zero Wolf & Cove, PBKD was one of 30 finalists from among 1,800 entries from around the world. Their winning project, entitled "Forest Kitchen," was an open-plan kitchen and pantry. The homeowner selected a multi-function team to design and execute this project. The Illinois team included Ryan Dunham of Oakley Home Builders in Downers Grove; Dan McFadden and Debbie Larson of PBKD in Geneva; Christina Samatas and Renee DiSanto of Park & Oak Interior Design in Glen Ellyn; and Michael Abraham and Joel Rafferty of Michael Abraham Architecture in Clarendon Hills.
The primary goal when designing the layout of the kitchen space was to lean into the open floor plan and create both a kitchen and pantry with a view. As part of their prize, Dan McFadden and Ryan Dunham traveled to Charleston, South Carolina for a summit of the finalists and announcement of the final winners in mid-October.
PBKD also won the "2019 Antolini Designer Project of the Year" for their "Geneva Traditional Polished Kitchen" project. The design featured porcelain countertops from the Antolini Luigi & Company, of Verona, Italy, and Terrazzo & Marble Supply Company of Wheeling, Illinois.
Also contributing to the award-winning project were Cara Mamott of Haven Design Group LLC in Geneva and PBKD Designer Debbie Larson of Downers Grove, Illinois. The team used the engineered, white stone with stunning dark veining for a dramatic, yet easily maintained backsplash that wouldn't easily stain or etch. "The backsplash now functions as a stunning piece of art all to enjoy," Larson commented. Larson represented the entire award-winning design team with a recent, all-expenses paid trip to Verona, Italy to visit the Antolini operation and receive the award in person.
ABOUT PB KITCHEN DESIGN
PB Kitchen Design is an award-winning, Geneva, Illinois-based kitchen design firm that has been providing exceptional kitchen design since 1988. Their services include planning and budget setting, design development, product selection, and installation supervision. For more information, visit https://pbkitchendesign.com, call (630) 208-1011, or find them on Instagram @pbkitchendesign