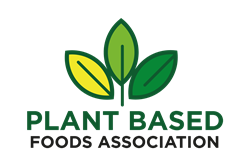 "Plant-based foods are not only great for the nation's economic health, they're better for your own health and have a lighter environmental footprint." - Michele Simon, executive director of the Plant Based Foods Association
Baltimore, Maryland (PRWEB) September 20, 2016
The Plant Based Foods Association, a new trade association representing 52 of the nation's leading plant-based food companies, today published an economic analysis of the industry's contribution to the nation's jobs, sales output, and tax base. The report estimates that the $4.9 billion plant-based food industry creates more than 60,000 jobs that pay a total of $3.6 billion in income each year. The data was released at the Natural Products Expo East in Baltimore, a trade show with more than 25,000 attendees.
According to report author Jon Haveman of Marin Economic Consulting, incomes in the plant-based foods sector average $59,400, which is about $13,000 higher than the average U.S. income. "The plant based foods industry is a fast growing industry creating good, high-paying jobs," said Haveman.
The report also estimates that at the current rate of growth, the plant-based food industry will add more than 2,000 jobs to the economy each year.
According to the report, economic activity in the plant-based foods industry leads to sales of $13.7 billion a year throughout the U.S. economy. In addition, the analysis estimates that plant-based food companies pay $1.1 billion in federal and state taxes each year, which represents 20% of the industry's revenues. The report predicts that at current growth rates, the plant-based food sector will generate $13.3 billion in tax revenues over the next 10 years.
"This new data, combined with recent environmental research showing that meat substitutes produce 10 times fewer greenhouse gas emissions than similar beef products, points to why public policies should support the growing plant-based foods industry," said Michele Simon, executive director of the Plant Based Foods Association. "Plant-based foods are not only great for the nation's economic health, they're better for your own health and have a lighter environmental footprint," she added.
Read the entire report here.
Methods
The $4.9 billion revenue figure was used to generate all the economic estimates in this report, using the 2016 IMPLAN model, an industry standard economic modelling system for estimating the economic impact of a given industry sector. The plant-based foods industry falls into the category of "other food manufacturing" in the IMPLAN model, so all data is representative of that larger category.
About the Plant Based Foods Association
The Plant Based Foods Association represents the nation's leading plant-based food companies. We educate and advocate for better policies and practices to meet the growing consumer demand for plant-based foods. Founded in 2016, its members represent a $4.9 billion market category that supports consumer health and the environment. Learn more at: http://www.plantbasedfoods.org and follow us @growplantbased.