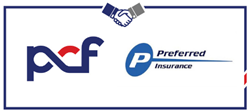 Partnering with PCF gives our agents the endless possibilities to better help and assist our clients and continue to grow our business
SALT LAKE CITY (PRWEB) September 14, 2021
PCF Insurance Services (PCF) announced the completion of a strategic partnership with Preferred Insurance, located in Three Rivers, Michigan, with offices in Dowagiac, Sturgis, Otsego, and Grand Rapids, Michigan. Preferred Insurance President, Paul Shingledecker, will continue to lead all operations for Preferred Insurance while becoming an owner and partner of PCF Insurance Services.
Founded in 1992, Preferred Insurance provides insurance and financial solutions to more than 5000 individuals, families, and businesses in the Three Rivers, Dowagiac, Sturgis, Otsego, and Grand Rapids areas. The agency provides coverage from several different carriers and prides itself on providing premier services to its clients.
"The partnership with Preferred Insurance is a perfect example of partnering with exemplary people," said Peter Foy, chairman, CEO, and founder of PCF. "Paul Shingledecker and his team embody the PCF spirit and will continue to achieve great things with the assistance of our Shared Services team."
Preferred Insurance becomes the latest of a large list of successful insurance agencies to benefit from PCF's extensive infrastructure of resources and services. The partnership between PCF and Preferred Insurance will allow the agency to simplify its business functions with finance and accounting, human resources, information systems, carrier relations, communication and marketing, and growth operations.
In addition, Preferred Insurance will have access to a premier selection of Network Benefits including the PCF University, the Employee Equity Program, and opportunities to collaborate and discuss business opportunities with other PCF partners.
"We are very excited to be partnering with PCF and look forward to furthering our success," said Paul Shingledecker, president of Preferred Insurance. "Partnering with PCF gives our agents the endless possibilities to better help and assist our clients and continue to grow our business."
Learn more about Preferred Insurance: http://www.preferredinsurance.biz/.
About PCF
Founded in 1987 and headquartered in Salt Lake City, UT, PCF is a full-service insurance brokerage firm offering complete risk management solutions with a broad array of property & casualty, life and health, commercial, employee benefits, and workers' compensation insurance products. PCF's growing network and partnership philosophy drives greater access to the nation's leading carriers and enables brokers to offer integrated risk management solutions bespoke to client challenges. Due to its scale and growth, PCF is a top 30 broker in the United States by revenue. Additional information can be found at https://www.pcfins.com/.
About Preferred Insurance
Preferred Insurance is a local company designed to serve its clients personally and face to face with whatever insurance needs or problems they may have. Preferred Insurance prides itself on not being just a voice on the other end of the phone and is always willing to assist its customers. With offices serving, Three Rivers, Sturgis, Dowagiac, Grand Rapids, Otsego, and surrounding communities. Preferred Insurance is proud to provide insurance and financial solutions to more than 5000 individuals, families, and businesses. Additional information can be found at: http://www.preferredinsurance.biz/.