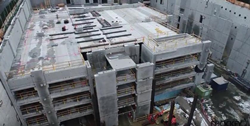 An underground parking structure would typically be constructed as a cast-in-place, monolithic structure, but Shockey Precast engineers offered a new twist to the design: cast-in-place concrete emulation with precast elements.
LANCASTER, Pa. (PRWEB) April 18, 2019
Shockey Precast, a PCI Mid-Atlantic Producer Member and manufacturer and provider of structural and architectural precast concrete, recently shared details about one of their latest and most unique projects to-date – the PennFIRST Patient Pavilion underground parking structure located in Philadelphia, PA.
Shockey Precast has completed over 400 parking structures over the years, including several underground parking garages. But the scope of the PennFIRST parking structure was new territory and is rare for anyone in the precast industry. The project, owned by the University of Pennsylvania and the Pennsylvania Health System, began as a feasibility question posed to Shockey Precast's Vice President of Engineering 2 years ago. Could an underground precast concrete parking garage ultimately support the 1.5 million square-foot patient pavilion that was to be constructed above it? After in-depth study and evaluation, the answer was a resounding "Yes" and Shockey Precast became part of the PennFIRST project team.
PROJECT OVERVIEW
Going 67 feet underground to build a parking deck that would eventually support a 1.5 million square foot structure above it offered unique challenges.
Prior to precast erection, the excavation perimeter was supported with steel piles and wooden lagging with waterproofing installed over the temporary lagging. And while the support was provided by others, Shockey Precast was responsible for bringing the concept of blindside waterproofing and near zero over-excavation to the design team – a concept that helped secure the company's place on the team.
An underground parking structure would typically be constructed as a cast-in-place, monolithic structure, but Shockey Precast engineers offered a new twist to the design: cast-in-place concrete emulation with precast elements.
Emulative detailing is defined as the design of connection systems in a precast concrete structure so that its structural performance is equivalent to that of a conventionally designed, cast-in-place, monolithic concrete structure. This method is consistent with ACI 550.1R-09 "Guide to Emulating Cast-in-Place Detailing for Seismic Design of Precast Concrete Structures" and is judged by ACI to be applicable to any structural system where monolithic structural concrete would also be appropriate.
The parking structure was designed and detailed to meet the requirements of the applicable building code as if it were to be constructed of monolithic cast-in-place reinforced concrete. However, the structure was divided into structural elements of sizes and shapes that could be plant fabricated, transported, and safely and efficiently erected onsite.
As described by David Orndorff, Shockey Precast's Vice President of Engineering, the basement walls of the PennFIRST Patient Pavilion parking structure were born as precast, but now live on as a cast-in-place concrete structure.
Precast perimeter walls as well as interior precast vertical and horizontal pieces were installed throughout using a crawler crane, which was assembled within the parking structure's excavated footprint. The crawler crane was assembled utilizing a 500-ton hydro crane, with outriggers supported by micro-piles that allowed the adjacent public road to remain open.
One bay was left out to allow for removal of the crawler crane and the remaining precast erection was completed using a hydro crane and a tower crane. After precast erection, the horizontal precast spanning pieces received 4 inches of bonded cast-in place topping. A flowable fill mix was placed between the waterproofing and the precast perimeter walls to fill the void.
Over time, as the sheeting and shoring deteriorates, the precast walls connected into the horizontal-spanning precast elements with the bonded cast-in-place will transfer those surcharge loads as well as lateral loads distributed from the pavilion above.
From a design feasibility question posed more than 2 years ago, the PennFIRST Patient Pavilion underground parking structure now represents Shockey Precast's ability to effectively respond to new challenges and create solutions that meet the changing demands of our customers.
PROJECT SCOPE

5-level underground garage supporting a 1.5 million SF patient pavilion above it
Cast-in-place concrete emulation with precast concrete elements
689 parking spaces
2 stair towers
Series of elevator shafts
2 precast cisterns
Provisions for fuel tanks, a network, locksmith, materials management and IT
PROJECT NUMBERS

1,137 pieces of precast concrete
Maximum piece weight 82,000 lbs.
Total project 362,000 SF
220,000 SF of double T's
17,000 SF of flat slabs
125,000 SF of walls
PROJECT TEAM

Owner: The Trustees of the University of Pennsylvania, as owner/operator of Pennsylvania Health System
Architect: HDR Architecture
Engineer of Record: HDR
Contractor: L.F. Driscoll/Balfour Beatty, a Joint Venture
Precast Specialty Engineer: FDG, Inc.
Precaster: The Shockey Precast Group
PCI Certified Erector: Jonasz Precast, Inc.
ABOUT PCI MID-ATLANTIC
PCI Mid-Atlantic, a chapter of the Precast/Prestressed Concrete Institute (PCI), is a professional marketing organization committed to the growth and greater profitability of the Precast Industry in the Mid-Atlantic region. It is comprised of prestressed/precast producer member firms located throughout the Mid-Atlantic States, including New York, New Jersey, Pennsylvania, Delaware, Maryland and Virginia. PCI Mid-Atlantic also has over 50 associate member companies that produce a variety of concrete industry related products. For more information, visit http://www.pci-ma.org.