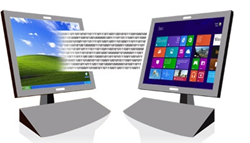 Windows XP users have run out of time. This is just the start. Many more vulnerabilities will be discovered and announced soon. Those who choose to stick to Windows XP are taking a big risk.
Bellevue, WA (PRWEB) April 30, 2014
Laplink Software, Inc. today revealed the perfect solution for Windows XP users facing increased risks of attacks from hackers – use its PCmover software to easily move from Windows® XP to Windows 7 or 8!
A new vulnerability affecting Internet Explorer 6 through 11 users was announced just this past weekend. This defect can grant hackers access to a PC, likely providing the ability to install programs, create accounts, and view, change, or delete user data. This defect has already been exploited against U.S. financial and defense companies, resulting in the U.S. government issuing a strong warning as to the risks of using these compromised versions of Internet Explorer.
Microsoft® has announced that they are aware of the problem and are currently working on a patch. However, since support for Windows XP ended earlier this month, those who still currently use Windows XP will remain vulnerable.
This bug is just the first in what could possibly be a long list of vulnerabilities that will remain open for hackers, viruses, and malware to target XP users. It is also a clear indication that the end of support doesn't only affect the operating system, but other applications like browsers.
Despite warnings that Windows XP computers are at higher risk of attacks, about 25 percent of the world still uses the unsupported operating system. Research indicates that users have failed to transfer to a newer operating system because of the costs associated with migration and due to a lack of knowledge regarding how to transfer.
"PCmover is the lowest cost method to move to a new PC or perform a full in-place upgrade to a newer operating system," explained Thomas Koll, CEO of Laplink. "PCmover makes the task of migrating from Windows XP as painless and hassle-free as possible. And for businesses, our research indicates we save at least $300 per new PC upgraded or deployed."
Laplink's PCmover® is the only software that automatically moves all selected programs, files, and settings from an old PC to a new one, or facilitates an in-place upgrade from Windows XP to a newer version of Windows. And it's the only migration solution recommended by Microsoft for Windows XP users. PCmover is perfect for users of any technical skill; a step-by-step wizard guides users through the migration process allowing them to choose to transfer everything or individually select what to transfer.
PCmover also comes with Free Transfer Assistance available 24/7. Simply call the toll-free number, and one of Laplink's certified PC migration experts will guide the user through the entire migration process at no additional cost.
"Windows XP users have run out of time," continued Koll. "This is just the start. Many more vulnerabilities will be discovered and announced soon. Those who choose to stick to Windows XP are taking a big risk with their personal data, with their bank accounts, and even risk becoming victims of identity theft."
PCmover can be purchased at Laplink's website, Microsoft.com, Amazon®, Best Buy®, Fry's™, Micro Center®, Office Depot®, Office Max®, Staples®, and other major software retailers and PC manufacturers in North America, Europe, and Japan.
About Laplink Software, Inc.
For over 30 years, Laplink has been the leader in providing software used for PC migration, remote access, file transfer, and synchronization. The privately-held company was founded in 1983 and is headquartered in Bellevue, Washington.